Alaska Fish & Wildlife News

August 2014
Deer Hunting Forecast and "State of the Deer"

By Riley Woodford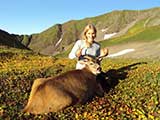 Sitka black-tailed deer season opened Aug. 1 in most of Alaska. There are vast differences in deer numbers across their range in Alaska. Past winters hammered deer in many areas and populations are still recovering, but last winter was relatively mild and survival was good. Fish and Game biologists offer their insights into the areas they manage.
Sitka black-tailed deer are found throughout Southeast Alaska and have been introduced to Prince William Sound and Kodiak Island. Southeast is ... Deer Hunting Article Continued
---
Fly-in Hunting
From the Air Taxi Pilot's View
By Don Bowers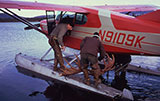 Thousands of hunters take advantage of unguided fly-in hunts every year. Hiring an air taxi to fly out and drop you off can be the experience of a lifetime, or it can be a nightmare. The more you know, the better your hunt will be.
Your first call to us is usually, "Where can I get a moose (or sheep or caribou or bear or whatever)?" Our answer will always be, "It depends." Yes, we do try to keep an eye on likely areas where we can put our customers, but in many cases ... Fly-in Hunting Article Continued
---
Waterfowl Hunting in Alaska

By Ginamaria Smith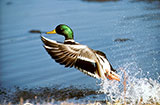 Many people ask me, "Why waterfowl hunting?" My answer often includes references to the camaraderie, variety of locations to hunt, different species, and different strategies that are all part of waterfowl hunting. Alaska is famous for its abundance of big game species, but its variety of small game, and waterfowl in particular, is often overlooked. Hunters can choose from 22 duck species, four goose species, brant, tundra swans, common snipe, and sandhill cranes. The hunting possibilities ... Hunting Waterfowl Article Continued
---
Alaska Moose Highlights

By DWC Staff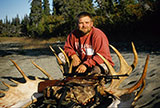 Moose hunting opportunities look good this year for most of Alaska, and state wildlife biologists offer some insights from the areas they manage.
The bull:cow ratios have improved on the Kenai and should begin to provide modest increases in harvest. The Board of Game will consider several proposals to modify moose hunting regulations next March including proposals to return nonresident opportunity. The Funny River Road fire, at nearly 200,000 acres, was the largest since 1947. This fire ... Alaska Moose Article Continued
---
Information and Tools for Hunters

By Riley Woodford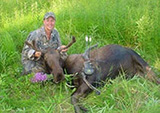 Need to skin a bear, judge a legal moose or plan an expedition? Fish and Game offers a variety of how-to tools for hunters, available online for free. You can watch how-to videos on the ADF&G website or Vimeo channel. Booklets, brochures, maps of hunt areas, shot placement diagrams, game species profiles and a wealth of other hunting information is just a couple of clicks away. PDF documents can be viewed online or printed out.
Hunt Planning
Plan your hunt workbook
Hunt ... Tools for Hunters Article Continued
---
Tracking Skills Can Make You a Better Hunter
Finding and Recovering Animals
By Mike Taras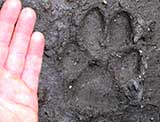 When I walked into the river meadow in Interior Alaska, I was not sure how things would play out. I knew that a moose got shot in the area and ran away. I knew that a few people had scoured the meadows and young aspen stands along the river for a few hours and found no moose. I got to the spot where the moose was shot and started looking around. There were a lot of moose and people tracks and trampled grasses. "Not good", I thought. But after looking around for a bit I saw a track ... Tracking Skills Article Continued
---
Four North Slope Caribou Herds Counted
Behind the Numbers: How Are the Caribou?
By Lincoln Parrett, Jim Dau & Meghan Nedwick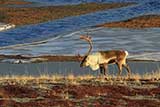 The summer of 2013 marks the first time all four caribou herds that calve on the North Slope were counted in one year. Unusually warm summer weather across the state and especially on the North Slope meant buggy days, and caribou grouped together for relief from insects. The conditions were so consistent across the North Slope (and even into Canada) that ADF&G biologists were able to take census photographs of the Western Arctic Herd (WAH), Teshekpuk Caribou Herd (TCH), Central Arctic Herd ... North Slope Caribou Article Continued
---
Taking the Five Salmon Family Challenge

By Ryan Ragan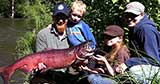 The other night I stood next to my nine-year-old daughter knee deep in mud. We were among many anglers at a popular spot along the bank, watching the lower stretch of Ship Creek spill into the sea. We each held a fishing rod, soaking cured salmon roe and fighting off the urge to set the hook on every small strike. The tide was at ebb. What fish that had come in on the incoming tide were now turning to head for salt, like the river was somehow exhaling reluctant kings too shy for their final return.
Strike; ... Family Fishing Article Continued
---