Alaska Fish & Wildlife News

April 2014
Underwater Research in Alaska

By Scott Walker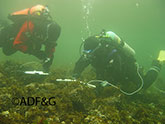 Alaska has some of the most successful commercial fisheries on the planet. One of the reasons that Alaska has been so successful with resource management is its requirement and reliance on some of the best biomass assessment research in the world. Alaskan animals are counted by air, foot, snowmobile, boat and my favorite, SCUBA gear.
Underwater research is conducted throughout the state and one of the biggest programs is located in Southeast Alaska. The dive team for Southeast Alaska currently ... Underwater Research Article Continued
---
Alaska's Bat Monitors
How to be a Citizen Scientist
By Riley Woodford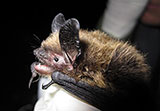 The bats emerged at dusk. As they crawled from their roost and fluttered into the falling dark to feed, two volunteers watched from below and counted - dozens, hundreds, and finally, more than a thousand.
Juneau isn't known as a haven for bats, but this single roost in the Mendenhall Valley last summer shows that bats are at home in Southeast Alaska. Efforts in the past couple years to better understand Alaska's bats have contributed significant insights into the kinds of bats ... Alaska Bat Monitors Article Continued
---
Alaska's Birding Festivals
Celebrating Birds and Birding in Alaska
By Anne Sutton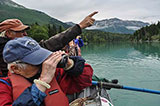 Take an abundance of birds, add a passel of people, toss in bird walks and bird talks, simmer for a weekend or more, and there you have it: a simple recipe for a successful bird festival. Since the First Annual Copper River Shorebird Festival took flight 24 years ago in Cordova, bird festivals have been springing up around the state to become popular additions to the birding scene.
"What's not to like?" said Anchorage Audubon Society board president and long-time birder ... Birding Festivals Article Continued
---
Enter to Win a Free Alaska Fishing and Hunting
License by Filling Out a Quick Survey
By Kristin Wright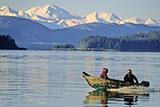 As the Alaska Department of Fish and Game (ADF&G) contemplates making changes to our online programs, it is important to find out what our customers want. Below is a link to a quick survey to gain a baseline of how our customers currently make purchases and what changes they would like the department to consider in the future. The Department plans to do more in-depth surveys targeting specific user groups in the future to find out what changes they would like to see.
The results of ... Quick Survey Article Continued
---
Killer Bears and Lemming Suicide:
Busting Myths about Alaska Animals
By Riley Woodford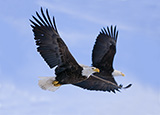 Sorry to disappoint you, but lemmings do not commit mass suicide and eagles do not snatch toddlers.
As a nature and science writer, I am sometimes called to verify or debunk stories about wildlife. The eagle-picks-up-child hoax is a good example. A colleague came in one morning a few years ago and showed me a video of an eagle swooping down and picking up a toddler in a park, dropping him to the ground after a few seconds of flight. The video had been on YouTube for four hours and already ... Myth Busting Article Continued
---