Alaska Fish & Wildlife News

January 2014
The History of Upper Cook Inlet Salmon Fisheries
A Century of Salmon
By Katie Sechrist and Joe Rutz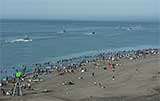 The salmon-rich waters of Cook Inlet in Southcentral Alaska have given rise to several unique fisheries over the past century. The Kenai River boasts some of the most active fisheries in the state. Thousands of recreational fishers flock to the crowded banks every year with their rods, reels, and dip nets, ready to take home their limit of salmon. Alaska's recreational fisheries are a relatively new concept (the majority of the state's historical fisheries being largely commercial) ... A Century of Salmon Article Continued
---
What happens when you spy on a beaver?

By Brenda Duty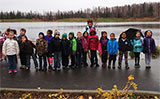 How do first-graders feel about setting up a trail camera and capturing animal pictures? "Excited, surprised, happy and glad," is how the first graders at Campbell Elementary in Anchorage responded as the images were revealed from their "critter cam." Educators with Alaska Fish and Game are introducing teachers statewide to trail cameras and providing camera kits.
These camera kits teach students about wildlife, habitat and their home in Alaska. The first graders ... Critter Cam & Kids Article Continued
---
Blasting Kanalku Falls

By Greg Albrecht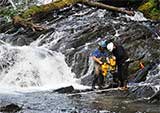 As I stared at the thunderous and debris-strewn Kanalku Falls, I couldn't help but wonder how a fish could even begin to climb it. In the same way that a rock climber stands back from a crag and plans his route, move by move, I tried to envision the path a fish would take, making the giant leaps and bursts of speed required to top out on the thirty-or-so foot high falls complex.
Kanalku sockeye are like none other. They are highly valued as a historic and contemporary food staple ... Blasting Kanalku Article Continued
---
Documenting the Harvest of Alaska's Wild Food:
ADF&G's Division of Subsistence
By James Van Lanen and Meredith Marchioni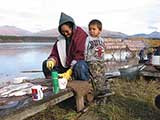 The ADF&G Division of Subsistence mission statement is to scientifically quantify, evaluate, and report information about customary and traditional uses of Alaska's fish and wildlife resources. In our interactions with the public as Subsistence Resource Specialists (SRS) with the Division of Subsistence, we often find that citizens of Alaska are unclear about why the division exists and what services the division provides the citizens of Alaska. This two-part article will explain ... Subsistence Article Continued
---
Trapping, Trails and Dogs

By Riley Woodford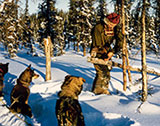 Winter is trapping season in Alaska, and dog owners sometimes worry that a pet could be caught in a trap. That's unlikely to happen for a variety of reasons, but Fish and Game and the Alaska Trappers Association are teaching people how to recognize traps, signs of trapping, and how to release a dog should it become trapped.
Biologist Stephanie Sell helped organize a "Sharing the Trails" seminar in Juneau in early November, a roughly two-hour class on a Wednesday evening. ... Trapping and Dogs Article Continued
---