Alaska Fish & Wildlife News

November 2013
Tracking Flycatchers
What's Happening to these Songbirds?
By Riley Woodford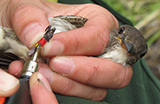 A little bird with a big voice is disappearing and Julie Hagelin wants to know why.
Hagelin, a biologist with Alaska's Wildlife Diversity Program, is looking at olive-sided flycatchers, birds that spend summers in the state, mating, nesting and raising their young. These aren't strictly Alaska birds – they are known to migrate as far south as Bolivia in the winter. The olive-sided flycatcher is considered "Near Threatened" globally, and declines are greatest ... Tracking Flycatchers Article Continued
---
The Fingerprint of a Fish
King Salmon Reveal Their Secrets
By Ryan Ragan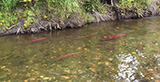 It was easy to spot the small school of tomato-red kings against the muted colors of the creek bed.
Hovering fifty feet above a scattering of spruce, alder brush and gravel, the pilot began to ease the helo down. Though it was a short trip from take-off to landing, when I exited the small aircraft, the land presented itself exponentially and without human intrusion as if only bears, water and salmon defined the limitlessness of open space.
Our purpose was to collect DNA samples from ... Salmon secrets Article Continued
---
Protecting Subsistence Resources
Respected Advisor Steps Down After Decades
By Meghan Nedwick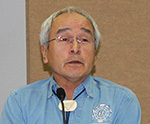 Roy Ashenfelter of Nome will soon enjoy a well-deserved break from a lifetime of public service.
Roy is retiring after nearly 20 years of outstanding service to the Northern Norton Sound Fish and Game Advisory Committee and other boards and committees that advise on subsistence issues. Advisory committees are the local "grass roots" groups that meet to discuss fishing and wildlife issues and to provide recommendations. There are 82 committees throughout the state each with expertise ... Roy Ashenfelter Article Continued
---
Wood Bison Looking at Greener Pastures

By Riley Woodford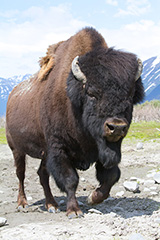 Keeping the biggest animal in North America captive requires a bit of teamwork. In mid-October, about three dozen volunteers converged on the Alaska Wildlife Conservation Center near Girdwood to expand the area enclosing the only captive herd of wood bison in the United States.
Like muskox, wood bison lived in Alaska until people hunted them out in the late 1800s. These large cousins to the familiar plains bison are well adapted for life in the north, and a few wild herds still exist in ... Wood bison Article Continued
---
Commercial Fisheries Education Hits the High Seas
on the F/V Sustainability
By Katie Sechrist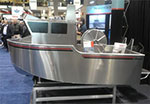 Who would have thought the Alaska Department of Fish and Game would be running our very own commercial fishing vessel? Yep, that's right - the Division of Commercial Fisheries (CF) is the proud owner of the F/V Sustainability (FVS), a 1:4 scale model of a Bristol Bay drift gillnetter.
The idea arose November 2012 while division staff was attending Pacific Marine Expo in Seattle. The 8-foot replica boat was built by Armstrong Marine and on display at their booth. Crowds of Expo ... F/V Sustainability Article Continued
---