Alaska Fish & Wildlife News

October 2013
Leading the Charge—Bear Hazing in Southeast Alaska

By Anne Sutton
It's no surprise that fish hatcheries in Alaska are magnets for bears. Take Port Armstrong Hatchery in Southeast, a powerful draw for Baranof Island brown bears. Manager Ben Contag once counted 36 individuals in his two minute walk to work and hatchery staff have tried about everything to keep hungry roaming bruins in their place: electric fences, whistles, seal bombs, cracker shells, pepper spray, giant potato guns packed with modeling clay, a lot of yelling and screaming, and—as ... Tasers for Hazing Article Continued
---
How Old is That Fish?
Fish Aging: The Art of Science
By Amy Carroll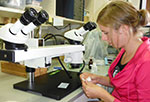 "Assuming the largest fish is the oldest fish is like saying every person taller than 6 feet is over 100 years old."
—Kara Hilwig
Recently the "oldest rockfish in the world" was caught in Alaska and the news went viral. Henry Leibman reeled the supposed 200-year-old fish up from 900 feet. At 41 inches long, it was much longer than the current age record-holder, a 32-inch guppy that was estimated to be over 200 years old.
As it turns ... Fish Aging Article Continued
---
Free Natural History Guides on Website
from the Kachemak Bay Research Reserve
By Catie Bursch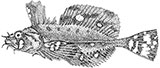 How many times have you seen something on the beach, or brought a different looking fish up on your fishing line and wondered what it is? The Kachemak Bay Research Reserve (KBRR) has developed some nice identification guides from our Research and Education programs, which are now available to you on our website.
The mission of the KBRR is to enhance understanding and appreciation of the Kachemak Bay estuary and adjacent waters to ensure that these ecosystems remain healthy and productive. ... Free Guides Article Continued
---
Aerial Photo Census Team Bags Five Big Herds
Counting Caribou in Alaska
By Wildlife Staff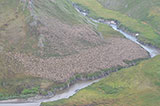 Counting caribou via aerial photography depends on a heap of good planning and equipment plus a good bit of weather luck.
In the period of time following calving, caribou can form large aggregations while they seek relief from insects. Insect harassment intensifies under warm, calm weather conditions and caribou tend to group in places where cooler temperatures or more wind may exist such as along the coast or at higher elevations. When these large aggregations form, it allows a photocensus ... Counting Caribou Article Continued
---