Alaska Fish & Wildlife News

September 2013
Rainbow Connections
Fishing for Alaska Rainbows
By Ken Marsh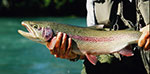 My very first rainbow trout startled me: It struck hard, wrenching my wrists, my shoulders; it stole my breath and stirred a strange tickle deep in my chest. The fish snatched my bait in the shallows of a famous Alaska river, the Kenai, and ran fast for the deep, swift water in the main channel. My instructions were to sit and not move, no matter what, but to call out should a fish be hooked.
So I held on and cried out to my father who cast for trout from a gravel bar upriver a good, hard ... Rainbow Connections Article Continued
---
Fishing Alaska Trout & Char with Beads

By Dennis Musgraves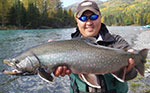 Late summer in Alaska has all of my angling buddies and I excited for the pursuit of trophy size wild rainbow trout and char. We are anxious to get our beads out during the peak of the salmon spawn with high hopes for catching some enormous size trout. Fishing beads with a fly rod is not something new. Beads have been and continue to be a very popular method among many experienced trout fisherman and professional guides in Alaska because it is incredibly effective. The technique of "pegging" ... Bead Fishing Article Continued
---
A Field Farewell
Wrapping up Summer in Alaska
By Tess Quinn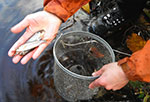 The moment has come that we all outwardly, jokingly hope for, but secretly dread: the end of field season. The time in which we must relinquish our identity as rugged, growling, crusty field staff who occasionally slink into the office to slowly perish over timesheets, and don our proper cubicle personas. Gone are the mornings of crawling into waders that smell like low tide in a hot dumpster. Past are the afternoons of dumping pine needles and twigs out of said waders, and looking on with a ... A Field Farewell Article Continued
---
Moving Pictures
Addressing Killer Trash in the Ocean
By Riley Woodford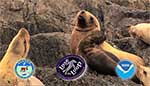 "Iron Eyes" Cody crying by the road remains a powerful image. The Keep America Beautiful campaign wanted to make people care about litter, and like a lot of kids in the early 1970s, Sue Goodglick was moved by the "crying Indian" public service television commercial.
All litter is ugly, but some is also deadly. Now a marine mammal biologist with the Alaska Department of Fish and Game, Goodglick is working to address killer trash in the oceans. She and her federal ... Killer Trash Article Continued
---
New Area Biologist Hits The Ground Running
Westing brings her knowledge to Cordova
By Jennifer Gibbins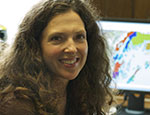 Filling Dave and Jill Crowley's shoes is no small feat, but Prince William Sound's newest area wildlife biologist, Charlotte Westing, husband Lance and 19 month old daughter, Sierra, aim to become integral members of the community.
Westing was hired to fill the ADF&G job following the Crowleys' decision to move to King Salmon earlier this year.
"Cordova appealed to us as a good place to raise our daughter, Sierra," said Westing. "The schools ... Westing in Cordova Article Continued
---