Alaska Fish & Wildlife News

May 2013
Southeast Alaska Moose: New Research
Provides Insights - and New Questions
By Riley Woodford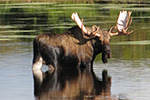 Moose are an Alaska icon, a massive animal reminiscent of the prehistoric beasts of the last ice age. In many ways Alaska is still emerging from the ice age, and the moose of Southeast Alaska are a good example. Moose did not colonize Southeast Alaska until the 20th century.
Biologist Kevin Colson, a researcher with the University of Alaska Fairbanks, said Southeast Alaska moose provide valuable insights into moose genetics because they're so new to the region.
"There ... Moose in SE Alaska Article Continued
---
Great Horned Owl Attacks Pets
Unusual Incidents in Copper River Valley
By Riley Woodford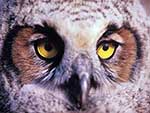 Stories of raptors attacking pets are the stuff of urban legends, far-fetched accounts of dogs being carried off that prove impossible to verify. But this March a great horned owl attacked several pets in front of witnesses over a four-day period until it met its demise with an ill-chosen foe.
Gakona is a small town in Interior Alaska across the Copper River from Wrangell-St. Elias National Park, one of a series of communities near the junction of the Glenn and Richardson highways. In ... Owl Attacks Pets Article Continued
---
Young Alaskan Archers Compete
with Eyes on National Contest
By Riley Woodford and Ken Marsh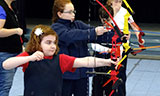 There are some archers in Delta Junction and on Prince of Wales Island shooting at the national quality level - judging by their scores in the National Archery in the Schools Program's Alaska tournament.
Almost 600 students from 30 schools participated in the 2013 Alaska State National Archery in the Schools Program (NASP) tournament. With instruction and support from the Division of Wildlife Conservation's Hunter Information and Training Program, young archers from Greely ... Alaskan Archers Article Continued
---
Bear Soup and Salmon Mousse
Alaska recipes and more
By Riley Woodford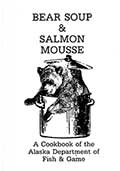 Hare with sour cream. Reindeer teriyaki. Fried heart. Spruce beer.
"Bear Soup and Salmon Mousse" offers more than a hundred uniquely Alaskan recipes featuring Alaska fauna and flora. Entrees featuring fish and game are complemented with recipes for sauces, jellies, dips, appetizers, salads and desserts.
The cookbook was produced by the Alaska Department of Fish and Game sometime in the 1980s. Long out of print, the entire cookbook is now available on the Fish and Game ... Wild Game Cookbook Article Continued
---