Alaska Fish & Wildlife News

March 2013
Counting Wolves on Prince of Wales

By Riley Woodford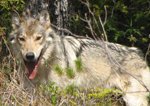 Prince of Wales is home to wolves and state wildlife biologists are trying to learn how many wolves roam the dense rainforests of the island. A new method is showing promise - and it works in the dark, without the wolves even knowing they've been "counted".
The largest island in Southeast Alaska, Prince of Wales (commonly known as POW) also has plenty of black bears, and one technique that's been used there to estimate bear numbers is hair snaring. Biologists put strands ... Counting Wolves Article Continued
---
On the Rebound: Prince William Sound
Commercial Pot Shrimp Fishery
By Katie Sechrist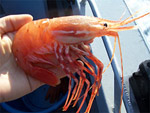 Alaska's Prince William Sound (PWS) is famous for its spectacular coastal scenery, tidewater glaciers, waterfalls, wildlife, and world-class fishing. PWS is also known for its commercial fisheries which include Chinook, sockeye, pink and coho salmon as well as Pacific cod, sablefish and most recently, spot shrimp Pandalus platyceros.
Easily accessible from Anchorage, about an hour by car to Whittier, the Anton Anderson Memorial Tunnel offers a gateway to this marine wilderness. ... PWS Shrimp Article Continued
---
Featured Video: Take a Closer Look

By Riley Woodford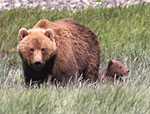 What do a bear's ears tell you about its age? Does a bear's fur offer a clue to its gender?
Wildlife watchers and bear hunters alike will appreciate "Take a Closer Look," a video that provides an extremely close look at Alaska brown bears. This video teaches how to judge the age and sex of brown bears by looking closely at their behavior, size, shape, body characteristics and proportions. It features bears of known age and gender from the McNeil River viewing area.
... Bear Identification Article Continued
---