Alaska Fish & Wildlife News

February 2013
Southeast Alaska Steelhead
A Unique Fish and a Unique Fishery
By Patrick Fowler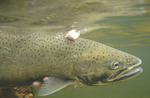 The throaty sound of the radial engine float plane fades into the distance as silence settles back into the valley. It is a special type of silence observed in the early morning on a remote lake; a stillness, a presence of solitude. I zip my dry suit and pull the neoprene hood over my head. As I slip into the water, the first splash of icy water hits my face and brings my senses to full alert. I begin to move forward into the water, peering through the face mask, when suddenly a shadow emerges ... SE Alaska Steelhead Article Continued
---
The Juneau Indoor Shooting Range

By Riley Woodford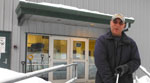 The first time I took my wife to the Juneau indoor shooting range to fire her brand new .22 pistol, range manager Zmuda offered a piece of excellent advice. "Bring that target in closer," he said. "It doesn't need to be out 50 feet." Shooting bulls-eyes at close range proved to be far more rewarding than missing at distance. Watchful but not hovering, he was quick to offer help with eye dominance and shooting tips.
Zmuda insures the indoor shooting range is ... Juneau Range Article Continued
---
Low Cost Kings: Kodiak Road System
Chinook Salmon Enhancement Project
By Donn Tracy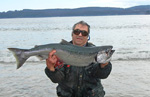 Anglers on Kodiak Island have an affordable option for catching Chinook salmon, thanks to an enhancement project being conducted jointly by the Alaska Department of Fish and Game (ADF&G) and the Kodiak Regional Aquaculture Association (KRAA). Since 2001 the department and KRAA have annually released Chinook smolt for subsequent return to freshwaters along the Kodiak road system where anglers have access to fishing. Other Kodiak Chinook salmon sport fishing in occurs in marine water surrounding ... Low Cost Kings Article Continued
---
Applications for McNeil River Bear Viewing
Permits Due On March 1
By Ken Marsh and Riley Woodford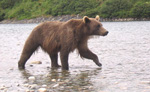 The application deadline for lottery permits to visit Alaska's premier brown bear viewing site at McNeil River State Game Sanctuary is fast approaching. Online applications must be submitted by midnight on March 1, 2013, and mailed applications must be received by the Alaska Department of Fish and Game by close of business on March 1.
Anne Sutton, coordinator of the viewing program for the Alaska Department of Fish and Game, visited the area in the summer of 2011. "It's ... McNeil Bear Viewing Article Continued
---
Dall's Sheep Captures
Featured Video
By Riley Woodford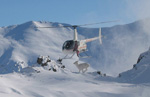 Safely capturing animals is an important part of wildlife biology. In some cases, this can be as simple and effective as just grabbing them – this is done with newborn deer fawns and sheep lambs. In the case of Dall's sheep, that also requires a helicopter ride to a remote, high-elevation lambing area.
Once captured an animal can be weighed, measured, and gender identified; blood and tissue samples can be taken providing information on genetics and health; and animals can ... Sheep Capture Videos Article Continued
---