Alaska Fish & Wildlife News

January 2013
Winter Caribou Hunt: Skiing off the Dalton Highway
Lessons, Offerings, and Rewards in the DHCMA
By James Van Lanen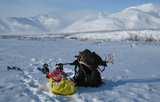 As I ski into the herd, the caribou dart in all directions, hundreds of them, their hooves clicking like music from a tribal dance. The sky is clear; the wind is calm. The only sounds I hear are the rumble of caribou hooves across the snow and the swooshing of my skis gliding along. I stop and watch them run for a moment.
I am in Alaska's Brooks Range near Atigun Pass. I am here to hunt caribou in Alaska Game Management Unit 25A. I have only traveled about one quarter of a mile ... Winter Caribou Hunt Article Continued
---
Ice Fishing on the Big Three
A Look at Harding, Birch, and Quartz Lakes
By Dennis Musgraves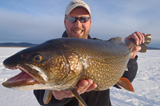 Interior Alaska hosts some of the best ice fishing opportunities in the state. Winter anglers literally have dozens of lakes swirling with fish to choose from. Beginning in late October sunlight starts fading daily, temperatures eventually drop to double digit negatives, and water surfaces become locked up harder than asphalt. This is the time fishermen start deciding where to go ice fish in the central region of the state. Most ice fishermen end up on one of the three principle lakes found ... Interior Ice Fishing Article Continued
---
Featured Video: How to Set Line for burbot
How to Clean and Fillet Your Catch
By Riley Woodford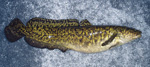 Burbot are a strange looking fish, a freshwater cod found in many of Interior Alaska's lakes and rivers. Burbot are delicious and popular with ice fishermen. The Alaska Department of Fish and Game recently produced two videos on burbot: "How to set line for burbot," and "How to clean and fillet your catch." Both can be viewed on the burbot fishing page, which also has links to burbot fishing methods and recipes.
Ice fishing ... Video: Burbot Article Continued
---
A Bear Viewing Area is Born

By Anne Sutton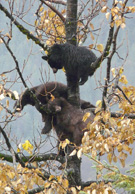 On a late summer day in Juneau near the Mendenhall Glacier Visitor Center, a scrum of excited tourists is pressed against a fence jostling to view a black bear sow and cubs moving slowly through the brush below. Cameras and cell phones at the ready, they ignore the incessant barking of a dog in a nearby pick-up truck and the toddler staggering through their forest of legs—even as he grabs the fence and screams.
"Whose child is this?" asks a ranger sharply. A gray-haired ... Bear Viewing Article Continued
---