Alaska Fish & Wildlife News

October 2012
Back to Mahoney
A Special Mountain Goat Hunt
By Doug Larsen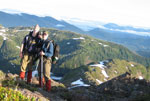 "Dad," Trevor whispered, "there's a goat!" Sure enough, less than 200 yards from our tent we could just make out the top of a goat's back as it fed upslope amidst a bed of deer cabbage and crow berry. "Grab the camera," I instructed, "and I'll get the binocs." Hunched over to stay hidden behind the small, bushy mountain hemlocks, Trevor and I hustled up the mountain a hundred yards and then moved slowly and quietly east along ... SE Goat Hunting Article Continued
---
On the Nushagak
Tagging Salmon in field Camp
By Emily Hepler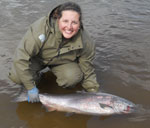 I was freezing. Not only was it my first night in a field camp on the Nushagak River, but as a sophomore at Oregon State University, it was my first night in any field camp. The "waterproof" bag that had held my gear on the hour-long boat ride through Bristol Bay and up the river turned out to be not so waterproof—and my mummy sleeping bag had gotten soaked. So there I was, my first night in the wild, sleeping in a wet mummy bag in thirty degree weather, and beginning ... Tagging Salmon Article Continued
---
Science & Salmon Education
Why are Commercial Fisheries Important?
By Katie Sechrist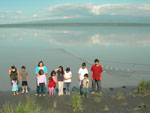 Alaska's commercial fisheries are diverse and valuable. Across Alaska, thousands of vessels large and small harvest a variety of finfish and shellfish. Yet many Alaskans lack an understanding of commercial fisheries in Alaska - and of salmon management - and why both are important to all Alaskans.
Division of Commercial Fisheries staff are working to fill this information gap by increasing awareness of science, salmon, and commercial fisheries in Alaska.
The division has ... Salmon Education Article Continued
---
Little Grouse on the Prairie
Alaska's Bird Hunters Enjoy an Ice Age Leftover
By Ken Marsh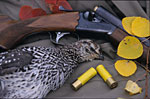 The setting seemed more Great Plains than Alaska: rusting farm machinery backlit by a fiery sunset, barley fields rippling in golden swaths, the horizon a living canvas of geese and sandhill cranes whirling in noisy flocks. Yet to the south a mountain range marched, and the September breeze fresh off the Arctic Circle blew brittle and permafrost-cold. Those subarctic clues left no doubt. The loam beneath my feet was a long, long way from North Dakota, Kansas or, really, anyplace else.
... Grouse Hunting Article Continued
---
Investigating the Reproductive Biology
of Alaska's Largest Crab Stock
By Joel Webb, Laura Stichert, and Gretchen Bishop
Fans of "The Deadliest Catch" are familiar with the rigors of the Alaskan snow crab fishery. The fishermen who make a living catching snow crab, Chionoecetes opilio, on the eastern Bering Sea work in a rugged environment. While the fishery for snow crab is open from October 15–May 15, fishing occurs primarily during winter, and weather conditions can be severe; the 100 plus-ft vessels regularly work in big seas with freezing spray and gale force winds, and struggle ... Snow Crabs Article Continued
---