Alaska Fish & Wildlife News

July 2012
Eyes on Goldeneyes
Satellite transmitters track seaducks' migrations
By Riley Woodford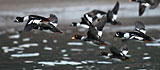 On an early spring day a flock of black and white ducks bobs in the waters of the Gastineau Channel near Juneau. They're goldeneyes, and a closer look reveals a mixed flock of Barrow's and common goldeneyes. An even closer look reveals that one duck sports a short antenna. In coming months, this duck will provide biologists with a wealth of information about the migration ecology of Barrow's Goldeneyes.
In April, biologists surgically implanted small satellite transmitters ... Goldeneyes Article Continued
---
Deer Urine Banned as Scent Attractant for Hunters
Keeping Chronic Wasting Disease Out of Alaska
By Riley Woodford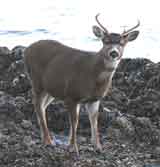 When deer hunting season opens in Alaska this August, hunters will no longer be able to use any scent attractants that contain deer or elk urine.
Hunters sometimes use urine-based scents to attract deer or to mask human scent. It is sold in hunting supply stores and through on-line catalogues. Most contain urine from domestic deer, often does in estrus. Deer and elk urine is possible route into Alaska for chronic wasting disease (CWD), a degenerative, fatal illness that affects deer, ... Scent Banned Article Continued
---
A Humble Fish Story in Which Old Halvorsen and a
Master Angler Encounter a Lalapalooza of a Fish
By Larry Edfelt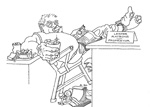 A half-pound of bacon blistered away on the cookstove beside a pot of vile crankcase coffee. Atop the counter, a half opened box of Halibut Helper consorted with a black, clinically dead banana, an outboard motor battery, and a bag of smoke flavored pancake mix. It was 8:00 a.m., breakfast time for Old Halvorsen, and the aged galoot was trying to jumpstart his sourdough. Old Halvorsen brings fresh significance to the word "omnivore."
"Drink your coffee. It's getting ... A Humble Fish Story Article Continued
---
Featured video: Entanglement of Steller Sea Lions
Identifying Causes and Finding Solutions.
By Riley Woodford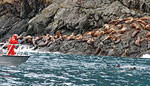 Thousands of marine animals die each year when they become entangled in marine debris. Along the coast of Alaska and Canada dozens of Stellar Sea Lions become entangled in plastic debris floating in the ocean. They also face injury and death when they swallow fishing gear including hooks and heavy line, when actively pursuing a hooked fish.
The Alaska Department of Fish and Game and Sea Gypsy Research teamed up with Moore and Moore Films and Marni Productions to produce an 11-minute educational ... Sea Lion Video Article Continued
---