Alaska Fish & Wildlife News

June 2012
Ticks in Alaska

By Riley Woodford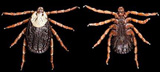 Ticks, small blood-sucking arachnid parasites, are not well-known in Alaska. But Alaskans should be on the lookout for ticks this summer.
"All too frequently I hear from both vets and the public, 'We don't have ticks in Alaska,'" said Kimberlee Beckmen, a veterinarian with the Alaska Department of Fish and Game.
One species, generally found on squirrels and hares, is common in Alaska and native to the state, but those aren't the problem. It's ... Ticks in Alaska Article Continued
---
The Brief Busy Life of the Arctic Bumblebee

By Anne Sutton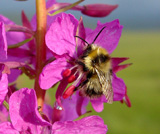 It's late May and the Arctic tundra is still brown and half frozen, but spring is tugging at the roots of early flowering plants. The lousewort starts out tentatively, its leaves clutched in tight clusters the size of ping-pong balls, but soon enough it shoots up a wooly stalk, unfurls rows of pink blossoms, and welcomes its first visitor.
The sight of that first visitor can be startling. "You're out there in the still frigid air and, gosh, there goes a bumblebee," ... Arctic Bumblebees Article Continued
---
New Regulations Address Invasive Species

By Tammy Davis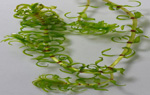 This year when you pull out your fishing gear in anticipation of your first outing, remember that some things have changed. You may have bumped into a number of folks at the sporting goods shop this spring with a new pair of wading boots tucked under their arm while picking up a supply of tackle and imitation eggs. Things may look a little different when you head to a hot spot on the river or to your favorite fishing hole, too. You and other freshwater anglers should be sporting a pair of ... New Invasive Species Article Continued
---
Alaska's Largest Caribou Herd Is Declining

By Riley Woodford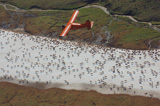 Alaska's largest caribou herd, the Western Arctic Herd, numbered about 325,000 animals as of July 2011 according to a census recently completed by the Alaska Department of Fish and Game. This represents a five percent decline since the last census was completed in July 2009, and a continuation of the four to six percent annual decline since it last peaked at 490,000 caribou in 2003. This trend is consistent with annual estimates of increasing adult cow mortality and declining calf survival.
... Caribou Herd Status Article Continued
---
Featured Video:
Moose!!! Staying Safe Around Urban Moose.
By Riley Woodford
It's moose calving season and Alaskans are seeing cow moose and their calves in urban and wild settings. That can be an exciting wildlife viewing experience, but it can also potentially be dangerous. In late May several people in Southcentral Alaska, including children, were injured by defensive mother moose with young calves. This 12-minute video targeted at a grade-school age audience offers general advice for living with urban moose and staying safe around moose.
Produced by ... Featured Video:Moose Article Continued
---