Alaska Fish & Wildlife News

March 2012
Whales, Polar Bears and Muskox
Geoff Carroll: Biologist in Barrow
By Candice Bressler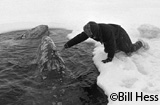 He has survived two airplane crashes in bush Alaska. He has fought off an angry polar bear with only a jammed-shotgun-turned-baseball-bat. He has been driven to the North Pole – by sled dogs. And he has looked into the eye of a whale, touched its head, and lived to tell the tale.
What sounds like a script for the "Most Interesting Man in the World" is actually reality for Geoff Carroll, Area Wildlife Biologist for the Alaska Department of Fish and Game (ADF&G). ... Geoff Carroll Article Continued
---
Mountain Goats in Focus
Biologists Share Management and Research
By Riley Woodford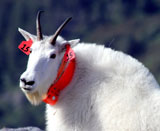 Mountain goats are one of the least studied big game animals in North America. But that's changing. Remarkable new tools and growing concerns for these agile, wooly beasts are providing unprecedented insights into their biology, behavior, needs and vulnerabilities.
Two dozen scientists gathered in Juneau in mid-February to share their experiences and knowledge studying and managing mountain goats. The vast majority of the world's mountain goats live in Alaska and British ... Mountain Goats Article Continued
---
The Quest for Gray-Headed Chickadees

By Riley Woodford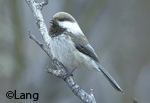 At the northern edge of the treeline in arctic Alaska and northwestern Canada, a hardy little songbird flits among the willows and spruce. Surviving the perpetually dark and freezing winters, nesting and mating in the verdant season, the gray-headed chickadee is one of the rarest regularly breeding birds in Alaska.
Travis Booms is on a quest to learn more about these rarely seen and little-known birds. A wildlife biologist with the Wildlife Diversity Program at the Alaska Department ... Gray-Headed Chickade Article Continued
---