Alaska Fish & Wildlife News

January 2012
A Bear's Eye View
Bear Collar Cameras in Alaska
By Riley Woodford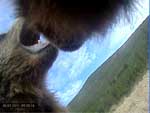 A sunny, pond-ice melting day in late May and Boar 6041 was not long out of hibernation. This mature, 700-pound brown bear smelled a sow, her breeding scent mixed with meat. Caribou, already dead. He found her, bred and ate caribou. Over the next few weeks, he bred many times with at least three other receptive sows, and likely more, in the Copper River Basin of Southcentral Alaska. He also killed and ate another bear, a number of newborn moose calves, a few caribou calves, a hare and a beaver ... A Bear's Eye View Article Continued
---
A Day in the Life of an Alaska Brown Bear

By Riley Woodford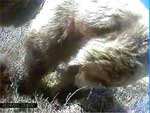 In the film "Being John Malkovich," a mysterious portal allows people to pop into the head of actor John Malkovich and spend a few minutes seeing the world through his eyes.
In the video "A Bear's Eye View: A Day in the Life of a Bear," footage from a collar-mounted camera allows people to see the world from the neck of a 700-pound Alaska brown bear. Like the Spike Jonze film, the subject is unaware he's hosting "passengers." I've ... A Bear's Day Article Continued
---
Small Game in Alaska Gets a New Focus

By Riley Woodford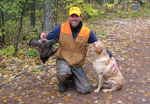 Rick Merizon grew up in Wisconsin hunting grouse and waterfowl. His appreciation and understanding of the natural history and the management of small game brings him to the Alaska Department of Fish and Game as the new small game biologist.
"This job is kind of a dream come true for me," he said. "Small game is a keen personal interest for me, and the fact that this position is brand new is part of the appeal."
Small game in Alaska includes grouse, ptarmigan ... Small Game Biologist Article Continued
---
Hunters Supporting Conservation
Wildlife Restoration Celebrates 75th Anniversary
By Riley Woodford and Amy Pinney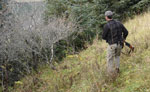 Americans enjoy unparalleled opportunities to hunt, fish and experience wildlife largely because of a far-sighted conservation effort launched 75 years ago. In many cases the very presence of animals on the landscape and fish in the water is tied directly to this effort, which has also helped instill a new appreciation for wildlife in generations of Americans.
Most people are aware of the virtual extermination of American bison in the 1800s, but unregulated commercial hunting and widespread ... Conserving Wildlife Article Continued
---