Alaska Fish & Wildlife News

December 2011
Copper River Reds on the Run

By Katie Sechrist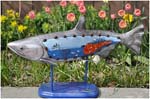 ADF&G staff continue to celebrate the success of Alaska's sustainable fisheries in our unique "Wild Salmon" style, of course.
The "Copper River Queen" is the second sculpture of its kind created by Katie Sechrist, Division of Commercial Fisheries Information Officer with the Alaska Department of Fish and Game in Anchorage. In 2009, the sculpture "Copper KR" ("King of the River") was spawned to life by Katie with the help of Ken ... Reds on the Run Article Continued
---
The Story of Scavengers

By Riley Woodford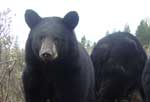 If you want to study scavengers, it makes sense to spy on dead things and see what eats them.
Diana Raper, a graduate student at Oregon State University, is in the second year of a three-year study of scavengers on the Gustavus Forelands. Motion-triggered trail cameras are proving to be the ideal tool for her research, and The Alaska Department of Fish and Game is collaborating and supplying cameras. Last year she used about 10 cameras to take about 6,000 pictures, this year she's ... Scavengers Article Continued
---
Trapping bats

By Riley Woodford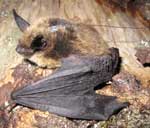 In the headlamp beam, the little bat squeaking in the mist net looked like a winged shrew with big ears. State wildlife biologist Karen Blejwas explained the chittering squeaks were distress cries. The calls sometimes draw in more bats, but in mid-October in Southeast Alaska most bats have already migrated to wherever they go to hibernate.
It was the last night of bat trapping for the year. Blejwas and I had strung the mist net between two tall poles a couple hours earlier at dusk. In ... Trapping bats Article Continued
---
A Message From The Commissioner
The Gift of The Outdoors
By Cora Campbell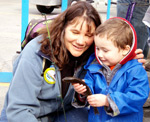 As I write this, it's the time of year when the hustle and bustle tends to overwhelm our days and obscure the details of what's really important. During this time, we often spend a lot of time thinking about presents. I'd like to humbly submit that this year we should spend a little less time thinking about presents, and a little more time considering gifts.
What was the best gift you ever received? I'd wager that it didn't have a price tag. Maybe you treasure ... Outdoors Gift Article Continued
---