Alaska Department of Fish and Game
---
Facebook
Twitter
Google+
Reddit

Virtual Viewing

Tracking Maps
Alaska Fish and Game Tracking Projects
Other Satellite Telemetry Tracking Projects in Alaska
---
Satellite Tracking of Western Arctic Bowhead Whales
Introduction
Bowhead whales are the most important species for subsistence communities along the Bering, Chukchi, and Beaufort Seas. To better understand the whales' movement, migration, feeding, and diving habits and how they might be affected by offshore and nearshore oil and gas activities, the Alaska Department of Fish and Game, the Alaska Eskimo Whaling Commission, and others began a cooperative research project in 2005 to study the western Arctic stock of bowhead whales.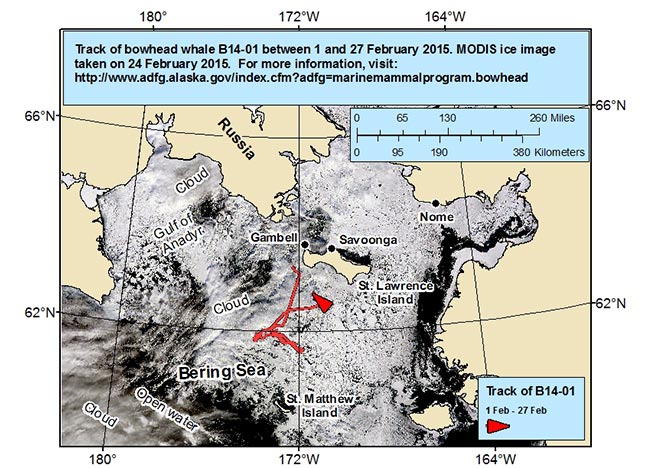 Methods
Between 2006 and 2009, 44 satellite transmitters were placed on bowhead whales in Alaska (35) and Canada (9). The majority of tags were deployed in waters near Point Barrow by Alaska Native subsistence whalers and others were deployed near Tuktoyaktuk and near the Alaska-Canada border.
Summary
Once early spring migration began, tagged whales travelled almost directly through the Chukchi Sea mostly between the southern boundary of oil and gas lease sale 193 and shore. Once past Point Barrow (late spring), they travelled directly through the Beaufort Sea to Amundsen Gulf, Canada. Summer movements occurred across the entire Beaufort Sea and included two whales that traversed the Beaufort Sea four times in the same season instead of the usual two. All tagged whales passed through lease sale area 193 after leaving Barrow in the fall and most spent weeks along the northern Chukotka coast before entering the Bering Sea. Winter movements were concentrated in the western Bering Sea from Bering Strait to the ice edge. The success of this project demonstrates what can be accomplished when Alaska Native subsistence hunters and scientists work together.
Results
Tags have lasted an average of >6 months and two others ~10 months, allowing ADF&G to track individual bowhead whales throughout their complete annual migration in the Bering, Chukchi and Beaufort Seas. Tagging in consecutive years has allowed scientists to look at the variability in movements and the timing of migration among years.
To learn more about this project see the Bowhead Tracking Project page.
Secondary Site Navigation
Viewing
Alaska Department of Fish and Game
P.O. Box 115526
1255 W. 8th Street
Juneau, AK 99811-5526
Office Locations