Alaska Department of Fish and Game
---
Secondary Site Navigation
Kittlitz's Murrelet (Brachyramphus brevirostris)

Under Federal Consideration for Protection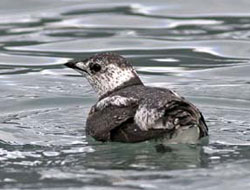 Declines have been reported in Kittlitz's murrelet population centers in Alaska. There is uncertainty in the magnitude of the overall decline due to varying methods and analyses used to collect and report these data. Researchers do not have a good understanding of the home range and site fidelity of individual Kittlitz's murrelets. These birds may travel 100s of miles in a matter of hours or days, and could possibly breed in different regions in different years, making them very difficult to census. Ultimately, large-scale, range-wide surveys of this species will be important for assessing the overall trend of the Kittlitz's murrelet population in Alaska. A multi-agency collaborative effort is underway to develop standardized methods for surveying this species in Alaska.
Because of the reported population declines the Kittlitz's murrelet was designated as a candidate species by the U.S. Fish and Wildlife Service (USFWS) in 2004. A "candidate" designation indicates that USFWS has sufficient information to propose a listing under the Endangered Species Act (ESA) but does not have resources to allocate to the development of a proposed rule.
For general information on Kittlitz's murrelet, see the Kittlitz's murrelet species profile page.