Alaska Department of Fish and Game
---
Secondary Site Navigation
Black-footed Albatross (Phoebastria nigripes)

Under Federal Consideration for Protection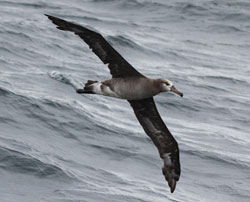 Over the past century, the black-footed albatross has been subjected to high rates of mortality and disturbance at breeding colonies and at sea. Feather hunting resulted in the reduction and extirpation of many colonies around the turn of the 20th century. The military occupation of islands with large breeding colonies of black-footed albatrosses resulted in further declines at these colonies. High-seas driftnet fisheries killed thousands of black-footed albatrosses annually from 1978 to 1992. Other anthropogenic factors, such as introduced predators and contaminants, were documented to increase mortality or decrease productivity in the 1990s.
Measures have been taken to reduce the threats to this species. The high-seas driftnet fisheries were banned in 1992. Growing awareness of the threat of long-line fisheries to albatrosses has led to many protective measures including streamer lines that deter seabirds from taking bait and becoming hooked. Introduced mammalian predators have been removed from all the larger colony sites in the Northwestern Hawaiian Island, and feather hunting no longer occurs.
The U.S. Fish and Wildlife Service was petitioned in 2007 to list the black-footed albatross as threatened or endangered under the Endangered Species Act. USFWS is currently conducting a Status Review of this species to determine if listing is required.
For general information on black-footed albatross, see the black-footed albatross species profile page.