Alaska Department of Fish and Game
---
Facebook
Twitter
Google+
Reddit

Wrangell–St. Elias Park and Glenn Highway

Wildlife Viewing
Sprawled across the southeast corner of Southcentral Alaska and the northern tip of the Southeast panhandle, an immense but little-known national park lies along the US-Canada border. Wrangell-St Elias National Park and Preserve is the largest national park in the US, a rugged land of high peaks, massive glaciers, and broad glacial rivers. It's remote and undeveloped, beautiful and vast so, if you're thinking of visiting, it's best to plan and prepare ahead of time.
To access the park from Anchorage, one travels 200 miles along the Glenn Highway, a bypass that is an adventure in itself. After leaving Anchorage and the more populated areas of the Matanuska-Susitna Valley, the Glenn Highway enters a rugged landscape. The road follows the Matanuska River as it winds through the Talkeetna and Chugach Mountains along a path carved over time by the Matanuska Glacier. Continuing north past Sheep Mountain and through northern forests, the road climbs to Eureka Summit and offers panoramic views of four mountain ranges. The road then drops back to parallel the Little Nelchina River, which spills into Copper River basin along the western boundary of the park. The park's main visitor center is at Copper Center, just south of the junction of the Glenn and Richardson Highways.
Along the way, the road traverses diverse habitats inhabited by such animals as Dall sheep, black and brown bear, caribou and wolf. You'll also pass an important migration corridor for many species of raptors. Boreal songbirds and owls inhabit the forests and trumpeter and tundra swans may be seen in the many lakes that form atop underlying permafrost.
Viewing Locations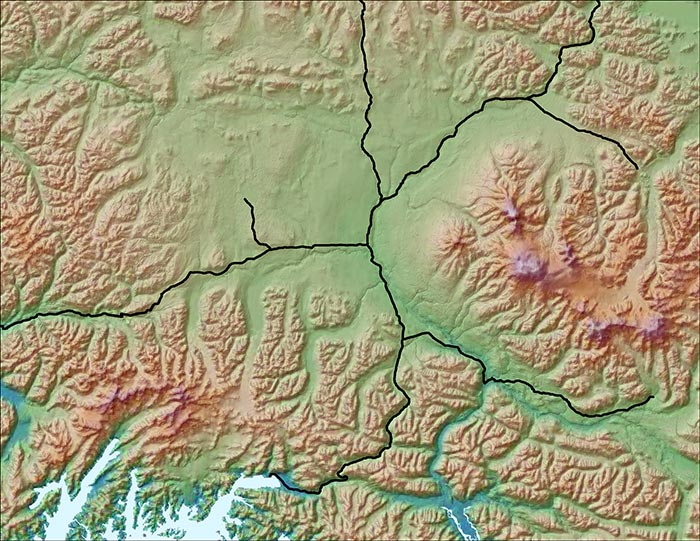 Additional Resources
Alaska Department of Fish & Game
1800 Glenn Highway
Palmer, AK 99645
(907) 645-6300

Alaska Department of Fish & Game
P.O. Box 47
Mile 186.3 Glenn Highway
Glennallen, AK 99588
(907) 822-3461 or 822-3309 phone
Alaska Department of Natural Resources/Division of Parks
Chugach State Park
18260 Seward Highway
Anchorage, AK 99516
(907)345-5014
csp@alaska.gov
Visit the state parks website for information on Chugach State Parks http://dnr.alaska.gov/parks/units/chugach/index.htm
Wrangell-St. Elias Visitor Center
Mile 106.8 Richardson Highway, Copper Center
(907) 822-7250
http://www.nps.gov/wrst/index.htm
Visit the NPS website for information on the park's hiking trails: http://www.nps.gov/wrst/planyourvisit/hiking-routes.htm Remember that help is not readily available in these remote wild lands. Be prepared and plan ahead before you set out.
Secondary Site Navigation
Viewing
Alaska Department of Fish and Game
P.O. Box 115526
1255 W. 8th Street
Juneau, AK 99811-5526
Office Locations