Alaska Department of Fish and Game
---
Education & Outreach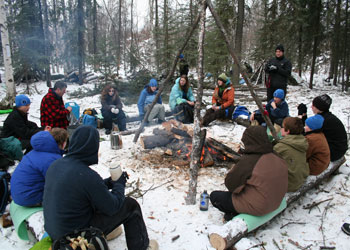 Welcome. Education plays a vital role in fish and wildlife conservation. We are proud to provide a wealth of information and educational resources on a wide range of conservation and outdoor topics. Whether you are a hunter, angler, teacher, parent or an aspiring outdoors person, we have resources to help. Search the main categories to learn about our many offerings including workshops for teachers, educational and informational materials, camps and skills clinics for youth and adults, and much more. You can also browse our calendar to find dates of courses, camps, clinics and other community events. We offer educational resources for all ages, from early childhood to adults.
Upcoming Events
Wildlife Wednesday Lecture: Ecology of Moose in Southeast Alaska
Juneau — February 4, 7 pm - 8 pm
Wildlife Wednesday Lecture: Bats
Anchorage — February 11, 7 pm - 8 pm
Mendenhall Glacier Fireside Lecture Series: Chilkoot River Brown Bears
Juneau — February 20, 6:30 pm and 8:30 pm
Beyond BOW Women's Hunter Education Class FULL
Anchorage — February 22, 2015
Did You Know?
If you are 16 or older and were born after January 1, 1986, you must successfully complete a Basic Hunter Education course before you can hunt in GMUs 7,13,14,15 and 20. Visit http://www.huntereducation.alaska.gov for more information.