Alaska Bowhunter Education Course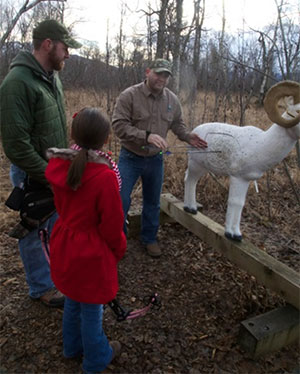 The bowhunter education course provides training in bowhunting techniques and safety, wildlife conservation, and outdoor preparedness. Graduates receive a lifetime certification recognized by all states, Canadian provinces, and Mexico.
If you were born on or after January 1, 1986 you must have successfully completed a department approved bowhunter education certification course to hunt big game with archery equipment and the certification card must be carried in the field when hunting.
All hunters participating in archery-only hunts must obtain bowhunter education certification.
The following chart illustrates the current regulations simply:
| Type of Hunt | Birthdate | Bowhunter Education |
| --- | --- | --- |
| Draw, Registration, and General Season | Before January 1, 1986 | Not Required |
| Draw, Registration, and General Season | On or after January 1, 1986 | Required |
| Restricted weapons hunts (archery-only) | All | Required |
The Alaska bowhunter education program meets the National Bowhunter Education Foundation (NBEF) and International Bowhunter Education Program (IBEP) certification requirements. Bowhunter education classes are taught by dedicated volunteer instructors who commit valuable time and offer years of experience. The next time you have a safe and enjoyable bowhunting experience be sure to thank a volunteer.
Non-Resident Hunters
Alaska accepts the NBEF or IBEP certification cards from any State/Province sponsored bowhunter education course. Other state's bowhunting licenses, tags, stamps, age exemptions, etc. are not adequate to fulfill Alaska's requirements.
If you need a bowhunter education course before coming to Alaska to hunt big game with a bow, visit the National Bowhunter Education Foundation website for more information. For more information for each states' bowhunter education course, here is a document with their course options and website (PDF 81 kB).
Please feel free to contact us if you need more assistance or have questions about the bowhunter education requirement to hunt big game with a bow in Alaska.
Alaska Bowhunter Education Course
The course is composed of two parts, the online course and an in-person field day. You will study the course material and take practice tests on the internet. You can take multiple chapter review tests online until the material is adequately covered. After successfully passing the online test, you must attend a Field Day where will complete a blood trailing exercise and proficiency shoot. It is only after successfully completing both parts of the course that you will receive your bowhunter education certification.
There is a $30.00 charge for the online course. This fee is collected after you pass. A score of 80% is required for passing the test.
Upon passing the online written test, you must print out your official Bowhunter Education Field Day Qualifier Certificate. After a 1-3 day waiting period, you will receive an email informing you that you can sign up to attend a Field Day. You must wait to receive this notification email before you can sign up. The Field Day will be administered by certified volunteer instructors and will include a short review of key safety issues and Alaska specific regulations, a blood trailing exercise, and a shooting proficiency.
The student must successfully complete the online test, attend the field day, and complete the shooting proficiency to be certified. Students who fail the proficiency shoot and the reshoots must re-register online to attend a field day on another date. Students completing the online course do not need to re-take the online course and repay as their field day qualifier certificate is valid for 365 days after their initial online course completion date.
Click here to enroll in the Online Bowhunter Education course
View the Online Bowhunter Education Course Field Day schedule
View information about the Field Day
For more information, contact HIT Program staff.