Juneau Wildlife Viewing

Mendenhall Glacier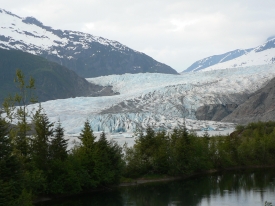 The Mendenhall Glacier area is Juneau's most popular recreation area, for residents and visitors alike. The glacier clearly is the focal point, but there are a wealth of wildlife viewing opportunities as well. Graceful arctic terns migrate over 10,000 miles from Antarctica to nest on the ground in clear view of the Photo Point trail. Beavers have transformed the landscape with their dams, lodges, and tree-cutting in Steep Creek and the Dredge Lake area, and black and brown bears are drawn to Steep Creek when the salmon are spawning from July through September. Mountain goats can also be seen here year round on the surrounding mountains.
Habitat
The varied habitats and extensive ponds and trails make the Mendenhall Glacier area a rich birding area.
Species
Beaver
Black Bear
Brown Bear
Mountain Goat
Terns
Hints
The Mendenhall Glacier is a very popular destination during the summer season. Visit in the early morning and late evening hours (when there is less human activity) for the best chance to see wildlife.
Facilities
Hiking Trails
Interpretive Signs
Restrooms
Wheelchair Accessible
Notes
The wheelchair accessible Photo Point Trail leads to a lookout with excellent views of the glacier, and of the nesting grounds of arctic terns.
Plan to spend at least: 2 hours - full day
Best Months
█ Best Month
Jan

uary

Feb

ruary

Mar

ch

Apr

il

Best Month

May

Best Month

Jun

e

Best Month

Jul

y

Best Month

Aug

ust

Best Month

Sep

tember

Oct

ober

Nov

ember

Dec

ember
Directions
Follow the Mendenhall Loop road (becomes Glacier Spur road) to reach the USDA Forest Service Visitor Center at the Mendenhall Glacier.
Contact
USDA Forest Service, Mendenhall Glacier Visitor Center - (907) 789-0097 or http://www.fs.fed.us/r10/tongass/districts/mendenhall/
Additional Information