Alaska Department of Fish and Game
---
Most ADF&G website information and services will not be available on Sunday, October 11 as the State of Alaska will be doing planned maintenance in Juneau on that date between 5 am – 9 pm AKST. We apologize for any inconvenience this may cause.
Facebook
Twitter
Google+
Reddit

Muzzleloader Hunter Certification Course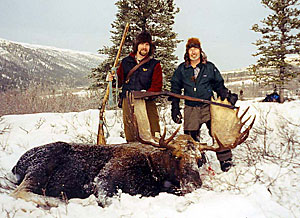 The Muzzleloader Certification Course provides information and hands-on training when working with black powder, black powder substitutes, and muzzleloaders at the range and in the field. This course is required of all hunters wanting to apply for any "Muzzleloader Only" permit hunt.
The Muzzleloader Course also covers the following areas; firearms safety, wildlife conservation, being a responsible/ethical hunter, shot placement and ballistic information on hunting with a muzzleloader.
To complete the muzzleloader certification course each student must demonstrate safe muzzleloader handling. They will disassemble, clean, and then reassemble the firearm. The student must pass a basic level of proficiency in a live-fire exercise and a pass a 50 question written exam, scoring at least 80%. The course length is 8-9 hours.
Muzzleloader Certification Course Options:
There are two ways to take a Muzzleloader Certification Course:
Traditional course – 8 to 9 hour course (Classroom and Field Day)
Online course; two parts – online study and test - ½ day Field Day.
NOTE: YOU MAY NOT MIX AND MATCH TRADITIONAL COURSES WITH ONLINE COURSES. THEY ARE NOT INTERCHANGEABLE.
Secondary Site Navigation
Education
Alaska Department of Fish and Game
P.O. Box 115526
1255 W. 8th Street
Juneau, AK 99811-5526
Office Locations