Alaska Department of Fish and Game
---
Most ADF&G website information and services will not be available on Sunday, October 11 as the State of Alaska will be doing planned maintenance in Juneau on that date between 5 am – 9 pm AKST. We apologize for any inconvenience this may cause.
Facebook
Twitter
Google+
Reddit

For Anglers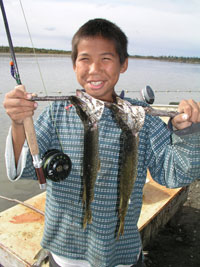 You can't think of Alaska without thinking of fishing. Sport fishing contributes millions of dollars to our economy and is an iconic part of the Alaskan lifestyle. What's stopping you from getting out there? We offer workshops and classes where you can learn new skills or sharpen old ones. We'll set you up with equipment you can borrow for free. If fishing is already your passion, you can help us ensure the tradition continues as one of our angling ambassadors.
Workshops and Programs
Becoming an Outdoors-Woman (BOW)
Hands-on workshops that teach adult women outdoor skills while building their confidence in their ability to get out and safely enjoy all that Alaska has to offer.
Rod loaners
Fishing is easily accessible around most of Alaska and fishing equipment is too thanks to our rod loaner program. Find out how you can borrow equipment for free.
General Information
Angler Ethics (

PDF 423 kB

)
Taking care of one of Alaska's great resources - some recommendations on being an ethical angler.
How-Tos
Additional Resources
Secondary Site Navigation
Education
Alaska Department of Fish and Game
P.O. Box 115526
1255 W. 8th Street
Juneau, AK 99811-5526
Office Locations