Hatcheries Research

Overview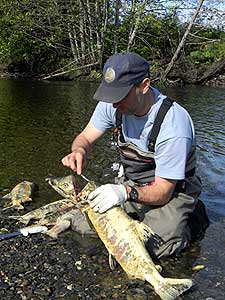 In 1971, the State of Alaska initiated its modern salmon fishery enhancement program in response to severely depressed commercial salmon fisheries. Protection of wild stocks has been foremost since the inception of the program and statutes, regulations, and policies are in place to provide for this priority. Alaska's hatchery program is designed to advance the science of fisheries enhancement in Alaska as well as to increase consumer confidence in Alaskan salmon by assuring the marketplace that these products come from sustainable and responsibly managed systems. Our program guards against potential negative effects on natural production, as evidenced by over 40 years of hatchery production alongside stable or increasing natural production.
Alaska continues to approach requests for increased hatchery production by asking if an increase can be managed with consideration of potential risks to wild stocks. Alaska's modern salmon fishery enhancement program is stakeholder driven, with provisions for planning and oversight by representatives of regional user groups. Since we are not comfortable directly applying research on steelhead, and other species in the Pacific Northwest or elsewhere to the unique situation in Alaska, we are expanding our own studies of wild and hatchery interactions to better understand those relationships as they occur in Alaska. As these studies provide results, we will evaluate and decide if any modifications to the program may be warranted.
From the beginnings of Alaska's salmon fishery enhancement program it was recognized that salmon stray and that hatchery stocks would stray; consequently, policies and regulations were adopted to mitigate concerns associated with straying.
For the protection of wild salmon stocks, hatchery programs are required to use local stocks as the brood source and locate hatcheries away from important wild stocks. Requiring the use of only local salmon stocks means that straying hatchery fish are less likely to reduce fitness of local populations.
In the 1980's hatchery programs in Alaska pioneered use of otolith thermal marks for mass-marking hatchery production. Now almost 100% of all hatchery salmon in most of the state are marked. Marking programs have made possible accurate detection of hatchery-bred salmon on the spawning grounds of wild salmon.
Straying on a sub-regional level appears to be on the order of 5 to 10% for pink and chum salmon; and less for other species. However, in a few select streams it can be over 50%.

These observations have raised several important questions:

Are hatchery-bred salmon interbreeding with wild salmon to the extent that fitness and productivity of these stocks are being diminished?
Is the annual assessment of wild stocks (which is, in large part, based on visual observation) so biased by the presence of hatchery salmon that excessive harvest of wild fish is being allowed or that escapement goals are difficult to set and difficult to assess?
Do density interactions diminish productivity of wild salmon?
Additional Background Information - Excerpt from Request for Proposal (PDF 30 kB)