Alaska Department of Fish and Game
---
Most ADF&G website information and services will not be available on Sunday, October 11 as the State of Alaska will be doing planned maintenance in Juneau on that date between 5 am – 9 pm AKST.
Facebook
Twitter
Google+
Reddit

For Educators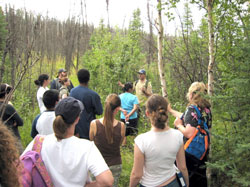 The conservation of Alaska's fish and wildlife resources depends on education! From continuing responsible participation in our outdoor traditions such as hunting, fishing and trapping to helping create informed and active citizens through environmental literacy, educators play a key role in promoting the conservation and sustainable uses of Alaska's fish, wildlife and habitats.
The Alaska Department of Fish and Game offers a wealth of resources to help educators bring fish and wildlife topics to life in classrooms throughout the state. Whether you live in an urban center or a rural village, we offer a wide range of locally relevant materials and programs to assist you.
We also recognize that educators come in many forms and classrooms aren't just in schools. If you work with a youth group, teach at a culture camp, volunteer with an outdoor or conservation organization, are a parent, grandparent or caregiver, you are an educator too!
We encourage you to explore what we have to offer and contact us with any questions.
Alaska Department of Fish and Game
P.O. Box 115526
1255 W. 8th Street
Juneau, AK 99811-5526
Office Locations