Juneau Wildlife Viewing

Eagle Beach State Park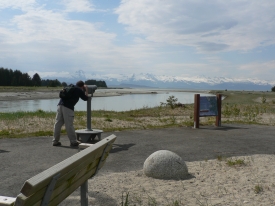 Eagle Beach State Park is at the rich confluence of the glacial Herbert and Eagle Rivers and Lynn Canal. The extensive tidal flats at Eagle Beach are feeding grounds for shorebirds, geese, and gulls year round, and both black and brown bears frequent the area as well. A one-mile loop trail into the forest, with good birding opportunities, goes near beaver ponds and cottonwood trees. If you have a full day, hike the longer trails up the wildlife-rich Eagle and Herbert valleys.
Habitat
The extensive intertidal flats at Eagle Beach makes this an excellent birding destination. Trails into the Eagle and Herbert valleys wind through classic sprice hemlock forest habitat, home to many mammals and birds.
Species
Beaver
Black Bear
Brown Bear
Canada Goose
Eagles
Gulls
Peeps and Sandpipers
River Otter
Hints
Check at the ranger station for up to date information on wildlife viewing at Eagle Beach.
Facilities
Fee
Hiking Trails
Interpretive Signs
Picnic Facilities
Restrooms
Wheelchair Accessible
Notes
Camping facilites, for both tent and RV campers, are available at Eagle Beach.
Plan to spend at least: 2 hours - full day+
Best Months
█ Best Month
Jan

uary

Feb

ruary

Mar

ch

Apr

il

Best Month

May

Best Month

Jun

e

Best Month

Jul

y

Best Month

Aug

ust

Best Month

Sep

tember

Oct

ober

Nov

ember

Dec

ember
Directions
Eagle Beach State Park is at Glacier Highway mile 29.
Contact
Alaska State Parks, Southeast Area Office - (907) 465-4563 Alaska Department of Natural Resources, Division of Parks and Outdoor Recreation - http://www.dnr.state.ak.us/parks/
Additional Information
Wings Over Alaska http://www.birding.alaska.gov/