Alaska Department of Fish and Game
---
Most ADF&G website information and services will not be available on Sunday, October 11 as the State of Alaska will be doing planned maintenance in Juneau on that date between 5 am – 9 pm AKST. We apologize for any inconvenience this may cause.
Facebook
Twitter
Google+
Reddit

Fisheries Research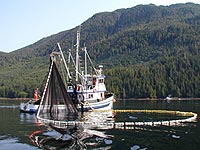 Subsistence, commercial fisheries and sport fisheries research projects can be found by navigating to Information by Area in those sections.
Genetics Laboratory
The Gene Conservation Laboratory provides genetic research, analyses, and applications to help the department manage commercially important fish and shellfish on the sustained-yield principal.
Learn more about the Gene Conservation Laboratory
Pathology Laboratory
The Fish Pathology Section monitors and controls finfish and shellfish diseases statewide.
Learn more about the Pathology Laboratory
Mark, Tag, and Age Laboratory
The goals of the Mark, Tag, and Age Lab (MTA) are to provide fisheries managers and researchers with timely, current, and historical biological data to help them manage, preserve, protect, and perpetuate Alaska's fishery resources.
Secondary Site Navigation
Fisheries Research
Alaska Department of Fish and Game
P.O. Box 115526
1255 W. 8th Street
Juneau, AK 99811-5526
Office Locations