Alaska Department of Fish and Game
---
Most ADF&G website information and services will not be available on Sunday, October 11 as the State of Alaska will be doing planned maintenance in Juneau on that date between 5 am – 9 pm AKST. We apologize for any inconvenience this may cause.
Facebook
Twitter
Google+
Reddit

Alaska Bat Monitoring Program

Overview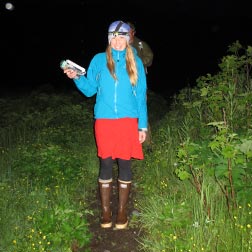 We are just starting to learn about the ecology of bats in Alaska. Because bats occur in low densities in most of Alaska, their distribution, abundance and behavior is poorly understood. The Alaska Bat Monitoring Program was established in 2004 with the goal of documenting species' summer distribution, roosting habitat, migration patterns, and winter hibernacula. Through increased awareness of the value of bats in the wild and your involvement in our bat program, we can slowly begin to understand bats in Alaska. It is important that we continue to learn more about bats and bat ecology in Alaska so we can conserve resources critical to their survival and prevent population declines.
Click here for more information about bats in Alaska.
Click here to learn more about the research that ADF&G is conducting on bats in Alaska.
Living With Bats
If you have observed bats in your home or if you find a sick or dead bat please refer to our new Living with Bats section for information about what to do and who to contact.
Secondary Site Navigation
Citizen Science
Alaska Department of Fish and Game
P.O. Box 115526
1255 W. 8th Street
Juneau, AK 99811-5526
Office Locations