Juneau Wildlife Viewing

Auke Bay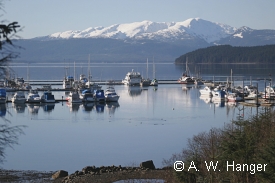 Several access points to Auke Bay provide wildlife viewing opportunities. The Don Statter Harbor is a good place to look for harbor seals and bald eagles, with sea lions frequenting the area in the winter. Arctic terns are sometimes seen at the harbor in the spring and early summer. Don Statter Harbor is the departure point for many whale watching cruises. Look for harbor porpoise and other marine mammals and sea birds at the Auke Village Recreation Area, which is west of Auke Bay on Glacier Highway.
Species
Eagles
Harbor Porpoise
Harbor Seal
Sitka black-tailed deer
Steller's Sea Lion
Terns
Hints
Look for Sitka black-tailed deer along the road between Auke Bay and the Auke Village Recreation Area, especially near the ferry terminal.
Facilities
Hiking Trails
Picnic Facilities
Public Transportation
Restrooms
Wheelchair Accessible
Notes
Be respectful of boat owners and fishermen while looking for wildlife at the Don Statter Harbor.
Plan to spend at least: 1 - 4 hours
Best Months
█ Best Month
Jan

uary

Feb

ruary

Mar

ch

Apr

il

Best Month

May

Best Month

Jun

e

Best Month

Jul

y

Best Month

Aug

ust

Best Month

Sep

tember

Oct

ober

Nov

ember

Dec

ember
Directions
Auke Bay is 12 miles from downtown Juneau at the intersection of Back Loop Road and Glacier Highway. The Auke Village Recreation Area is about four miles west of Auke Bay. Look for the brown directional sign after the ferry terminal.
Contact
Juneau Convention and Visitor's Bureau - (888) 581-2201 or http://www.traveljuneau.com