Alaska Department of Fish and Game
---
Facebook
Twitter
Google+
Reddit

Alaska Basic Hunter Education Course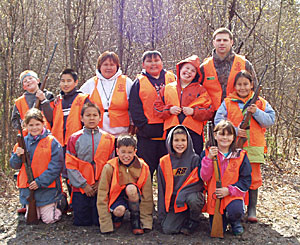 The Basic Hunter Education (HE) courses provide training in firearms safety, and wildlife conservation as well as respect for our natural resources, landowners, and other hunters. Graduates receive lifetime certification recognized by all states, Canadian provinces and Mexico. Since originating around 1950, nearly 30 million students have completed the Basic Hunter Education training in the United States. Conclusive evidence shows that the HE course has dramatically reduced hunting related firearms accidents — up to 75% in some states — and has brought about positive change in hunter skills, attitudes and behavior.
Hunter Education is required for hunters born AFTER January 1, 1986 who intend to hunt in Units 7, 13-15, and 20. The following apply:
If you were born after January 1, 1986 and are 16 years old or older, you must have successfully completed a certified Basic Hunter Education course.
If you were born after January 1, 1986 and are under 16 years old, you must have:

successfully completed a certified Basic Hunter Education course –OR-
hunt under the direct immediate supervision of a licensed hunter who is either:

16 years old or older and has successfully completed a certified Hunter Education course OR
born on or before January 1, 1986.
In addition, Hunter Education certification is required before anyone may legally hunt in the following areas in Alaska: a) the Anchorage Coastal Wildlife Refuge, b) The Eagle River Management Area (14C for black bear and small game), c) the Palmer/Wasilla Management Area (shotgun for big game), d) The Mendenhall Wetlands near Juneau, except hunters under 10 who are not certified can hunt as long as they are under the direct supervision of an adult who is certified.
The Basic Hunter Education certificate is valid in any state where hunter education is required to purchase a license. Basic Hunter Education classes are taught by dedicated volunteer instructors who commit valuable time and expertise to providing instruction to over 2,000 Alaskans of all ages each year. The next time you have a safe and enjoyable hunting experience be sure to thank a volunteer.
BASIC HUNTER EDUCATION COURSE OPTIONS:
There are three ways to take a Basic Hunter Education class:
Traditional course – longer multi-day course
Independent Study course – 2 parts - workbook home study, 8 hour field day
Online course – 2 parts – online study and test, ½ day field day
NOTE: YOU MAY NOT MIX AND MATCH TRADITIONAL/INDEPENDENT STUDY COURSES WITH ONLINE COURSES. THEY ARE NOT INTERCHANGEABLE.
Secondary Site Navigation
Education
Alaska Department of Fish and Game
P.O. Box 115526
1255 W. 8th Street
Juneau, AK 99811-5526
Office Locations