Alaska Department of Fish and Game
---
Facebook
Twitter
Google+
Reddit

Hunter Information and Training (HIT) Program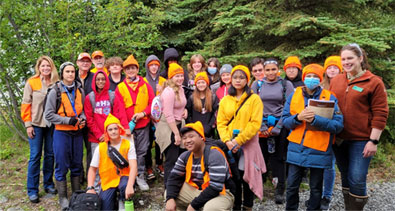 The Hunter Information & Training Program (HIT) is responsible for the administration of certification courses required to hunt in many parts of the state and in many other jurisdictions throughout North America. The HIT Program, with the assistance of over 400 volunteer instructors, offers quality training and education throughout the state of Alaska. The three certification courses that we offer are: Basic Hunter Education, Bowhunter Education (IBEP/NBEF), and Muzzleloader Education. The HIT Program is also actively involved in a number of outdoor programs designed to recruit and retain new hunters into the shooting sports and to preserve the future of our hunter heritage.
The Basic Hunter Education courses provide training in firearms safety, wildlife conservation, as well as respect for our natural resources, landowners, and other hunters.
The State of Alaska oversees three shooting ranges, each offering a variety of opportunities to the public. They are located in Anchorage, Juneau, and Fairbanks.
Find a Basic, Bow, or Muzzleloader class in any of their forms: traditional, independent study, or online.
The bow hunter education course provides training in wildlife conservation, techniques, being a safe and responsible bow hunter, and outdoor preparedness. This certification course is endorsed by the IBEP/NBEF.
Important - New bowhunter education requirements
The Hunter Clinic series offers Alaskan hunters the opportunity to gain new hunting skills or sharpen existing skills. Waterfowl Hunting, Steel Shot, Meat Care, Reloading, Orienteering, Bow Tuning, Sheep/Bear Hunting. This also includes Bear Baiting Clinics.
The mobile shooting sports program consists of a 36-foot 5th-wheel mobile trailer fully equipped to conduct a wide variety of Hunter Education and shooting sports activities. The mobile shooting sports trailer travels around Alaska.
The muzzleloader certification course provides "hands-on" instruction in safe handling of black powder, black powder substitutes, and muzzleloaders at the range and in the field.
Becoming an Outdoors Woman, (BOW) is a national program that offers outdoor skills workshops to women. Women in the Outdoors (WITO), is a similar program sponsored by the National Wild Turkey Federation and offers a variety of outdoor experiences. Women on Target, (WOT) sponsored by the NRA offers handgun, rifle and shotgun courses.
HIT is heavily involved with partner, conservation groups promoting youth programs around the state: National Archery in the Schools (NASP), Junior Acquiring Knowledge Ethics and Sportsmanship (JAKES), Youth Hunter Education Challenge (YHEC), Youth Conservation Camps, Shotgun Leagues and Small Game Hunts.
Secondary Site Navigation
Education
Alaska Department of Fish and Game
P.O. Box 115526
1255 W. 8th Street
Juneau, AK 99811-5526
Office Locations