Education & Outreach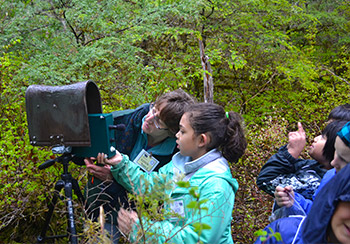 Welcome. Education plays a vital role in fish and wildlife conservation. We are proud to provide a wealth of information and educational resources on a wide range of conservation and outdoor topics. Whether you are a hunter, angler, teacher, parent or an aspiring outdoors person, we have resources to help. Search the main categories to learn about our many offerings including workshops for teachers, educational and informational materials, camps and skills clinics for youth and adults, and much more. You can also browse our calendar to find dates of courses, camps, clinics and other community events. We offer educational resources for all ages, from early childhood to adults.
Upcoming Events
Wildlife Wednesdays: Birds 'n' Bogs Citizen Science Program
Palmer — November 7, 7 pm - 8 pm
Growing Up WILD: Talking Science with Tots
Kodiak — November 8, 6 pm - 9 pm
Inquiry into Alaska's Fabulous Furbearers
Kodiak — November 9 – 10, Nov. 9, 5-8:30pm; Nov.10, 9-5pm
Women's Only Hunter Education (Beyond Bow)
Anchorage — November 11, 2018
Did You Know?
The Alaska Wildlife Curriculum Ecology Cards contain line drawings and facts about more than 200 Alaska plant and wildlife species.