Youth Programs
The Hunter Information & Training Program is heavily involved with partner conservation groups promoting youth programs around the state.
National Archery in the Schools Program (NASP)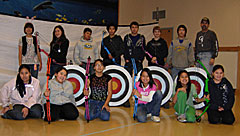 The National Archery in the Schools Program (NASP) is a nationwide youth archery program developed in Kentucky in 2002. NASP promotes:
Self-confidence & discipline
Team work
Physical fitness
Participation in the lifelong sport of archery
The program's focus is to provide international-style target archery in a physical education environment to 4th-12th graders. Archery is a sport that nearly everyone can be successful at regardless of age, gender, size, or physical abilities. Statistics show that school archery programs engage more students in the educational process, improve classroom performance, and reduce dropout rates. Nationwide millions of students have safely participated in NASP, and more than 160 schools in Alaska participate in the NASP Program with more teachers being trained as Basic Archery Instructors (BAI) every year. Grants for equipment are often available and ADF&G schedules teacher training workshops as needed. Training workshops generally last eight hours, and can be scheduled on weekends or weekdays.
Learn more about NASP from this video:
https://www.youtube.com/watch?v=Xm1CJGEGF44
ADF&G also hosts an annual virtual tournament for all Alaska elementary, middle, and high schools enrolled in the NASP Program. The virtual tournament is intended to give every student that participates in NASP during the school day, regardless of their skill level, the chance to compete with other archers around the state, without the time and expense of leaving their own gyms. Prizes will be awarded and shooters and coaches will receive t-shirts with their registration. Participants also have the opportunity to qualify for the National Tournament that is held in Kentucky every year. In the 2014–15 schoolyear, 758 students from across the state represented their school in the NASP State Tournament.
For more details about NASP, please contact (907) 267-2534 or dfg.dwc.hit.nasp@alaska.gov.
How to Get NASP Started at Your School
Have your Principal fill-out the School Agreement
Work with the NASP Coordinator to purchase equipment for your school (this is a great opportunity to get your community and PTA involved)
Set-up a training date to get yourself and other staff at your school trained as Basic Archery Instructors (BAI)
Run NASP during the school day and watch your students get excited about archery!
Rabbit Creek Youth Shotgun League
Rabbit Creek Youth Shotgun League is built on the foundation of positive reinforcement and individual improvement. In the youth league there is absolutely no pressure to "win." We will assist each league member in setting realistic personal goals for improvement over the course of the league activities. We always need parents to get involved with coaching and provide training for parents who are interested in coaching their child's team. The clay target sports provide a lifetime of shooting opportunities. Success in the clay target sports emphasizes teamwork, endurance, fine motor skills, psychological focus and hand-eye coordination. Several clay target sports, including trap and skeet are Olympic events!
Outdoor Youth Days
Outdoor Youth Days is a day camp (Mon-Wed) held at Rabbit Creek Shooting Park in Anchorage. It features firearms safety, archery, rifle, shotgunning, wildlife ID, fishing, orienteering, and outdoor survival among other skills. The camp is designed to foster an awareness, respect, and enjoyment of Alaska's natural resources.