Alaska Department of Fish and Game
---
Facebook
Twitter
Google+
Reddit

Access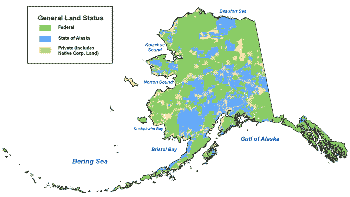 Public lands and waters in Alaska provide tremendous opportunities to enjoy our fish, wildlife and other public resources. The Alaska Department of Fish and Game not only develops many sites to enable the public to access these resources including boat ramps, angler access sites and lake stocking projects but we also work to ensure that the public's right to access publically owned resources is protected. Department staff researches historical public use patterns, trails and easements; evaluates past and pending legislation; monitors government and private land use activities, regulations and hearings; and coordinates with other public land management agencies to identify and maintain public access.
Since statehood, land ownership in Alaska has shifted dramatically. Under the terms of the Alaska Statehood Act, the state of Alaska was granted approximately 105 million acres of land in addition to the beds of inland navigable waters. Some of these lands were selected for future boroughs and municipalities. Approximately 222 million acres of Alaska are federally owned or managed. The Alaska Native Claims Settlement Act (ANCSA), passed by Congress in 1971, allocated 45.5 million acres of public land to Native Corporations. Native Corporation land is private land. The remaining land, less than one percent, is private land.
Each of these land ownership types has different provisions to provide access to public lands and waters and before planning a trip you need to know who owns the land you want to use or cross. Is it federal, state, municipal, Native corporation or private land?
ADA Access Information
See the State ADA Coordinator's Office website for ADA information.
Report an Access Problem?
Do you have a question about Access that is not listed on our website? Do you believe legal access is being illegally blocked and you wish to report it? Are you curious about the legality of access at a particular spot? Please contact our staff at ADF&G.
Mark Fink, mark.fink@alaska.gov, 907-267-2338.
Secondary Site Navigation
Lands & Waters
Alaska Department of Fish and Game
P.O. Box 115526
1255 W. 8th Street
Juneau, AK 99811-5526
Office Locations