Rabbit Creek Shooting Park
The Rabbit Creek Shooting Park is closed the entire month of December and will reopen on Wednesday, January 3rd.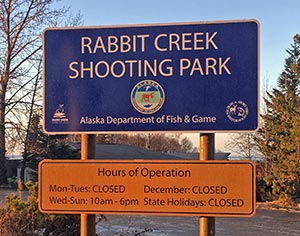 The Rabbit Creek Shooting Park (RCSP) complex provides hunters and recreational shooters of all skill levels with ranges for handgun, center-fire, rim-fire, archery, and non-toxic shotgun clay target shooting. Whether this is your first shooting experience or you are a professional shooter, the RCSP staff welcomes you for a safe and enjoyable time. Facility use fees vary from single day usage to individual annual passes.
Public Shooting Hours
Monday
Closed
Tuesday
Closed
Wednesday
10am – 6pm
Thursday
10am – 6pm
Friday
10am – 6pm
Saturday
10am – 6pm
Sunday
10am – 6pm
Note: The last customers will be accepted at the main range house at 5:15 p.m.
The 5-stand sporting clay fields are open to the public Thursday through Sunday from 10:00am-1:00pm and 1:30pm-5:00 pm; the last customers will be accepted at 4:30 pm.
RCSP is CLOSED during the month of DECEMBER and the following holidays.
The two five-stand sporting clay fields are not covered under daily usage fees. They have separate usage fees and require non-toxic shot which can be purchased at the range or you may supply your own.
Rifle rests, spotting scopes, chronographs, sandbags, and targets are available at the range. The friendly knowledgeable staff is always present to assist new and seasoned shooters with safe use of firearms and sight alignment.
A major component of the RCSP is hunter education and training. To this end, the RCSP has a special building with two classrooms where a wide variety of classes are offered for basic safety, shooting, and hunting skills by the Alaska Department of Fish and Games Hunter Information and Training (HIT) Program. The classroom and instructor ranges (25-yard and 50-yard) can also be rented by certified firearms instructors. To find out more information about renting the facilities, contact 345-7831.
Our facility offers or hosts:
100 yard semi enclosed center-fire range
50 yard semi enclosed handgun range
50 yard rim-fire range
Two special instructional ranges
Archery range with static and 3-D targets including simulated tree platform
Two media-equipped Classrooms with capacity for 24 students in each or 48 in one large room
Firearm and Bow Hunter Education classes
Hunter Information and Training Clinics (Muzzleloading, Bear Baiting, etc.)
Firearms Instruction for all skill levels
Instructor and Range Safety Officer certification
Youth Shooting Sports and Clinics
Targets and other shooting accessories for sale and rent (No firearm rentals, no handgun or rifle ammunition sales)
Friendly and knowledgeable staff, instructors, and volunteers
Warm, safe, friendly atmosphere for everyone!
A major goal of RCSP and the HIT program is to introduce Alaskan youth to the heritage of safe and fun shooting. To this end the RCSP hosts two Youth Shotgun Leagues, one in the fall and one in the spring. Girls and boys ages 10 to 15 are invited to come and experience the fun and friendly competition while developing skills shooting moving clay targets. Additionally kids 16 to 18 may shoot in a "Senior Youth League" to further hone their skills. Rabbit Creek Youth Shotgun League.
The RCSP staff are assisted with running a safe range by Volunteer Range Safety Officers (VRSOs). VRSOs are people with firearm experience, specialized training, and good people skills. The primary responsibility of a VRSO is to observe customer behavior and ensure safe handling and shooting of firearms, in compliance with RCSP range rules. We have VRSOs who actively help out on various days, times, and on different ranges throughout RCSP. If you think you might be interested in receiving training and becoming a VRSO, please fill out this safety officer application form (PDF 258 kB).
For a list of the RCSP range rules, see General Range Rules (PDF 95 kB). The Range Rules are also posted in the Main Range House at RCSP.
For additional information, see the Contact Us and Facility Fees pages. For questions, call (907) 345-7831 or email dfg.dwc.rcsp@alaska.gov.
Note: Pregnant or nursing individuals should consult with their physician before visiting the range due to the potential exposure to lead and loud noises.