Rabbit Creek Shooting Park
The Rabbit Creek Shooting Park will increase fees based on the department's costs for operating and maintaining the range. The new fees will be effective on January 1, 2019. To view the new facility fees, click here.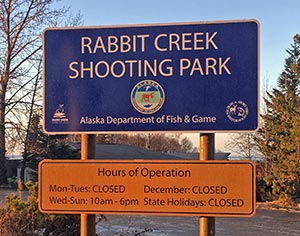 The Rabbit Creek Shooting Park (RCSP) complex provides hunters and recreational shooters of all skill levels with ranges for handgun, center-fire, rim-fire, archery, and non-toxic shotgun clay target shooting. Whether this is your first shooting experience or you are a professional shooter, the RCSP staff welcomes you for a safe and enjoyable time. Facility use fees vary from single day usage to individual annual passes.
Rabbit Creek Shooting Park is open to the public Wednesday through Sunday from 10:00 am to 5:45 pm; the last customers will be accepted at the main range house at 5:15 p.m. and at the shotgun range at 4:30 pm.
RCSP is CLOSED on Mondays and Tuesdays, ALL of DECEMBER, and the following holidays.
The two five-stand sporting clay fields are not covered under daily usage fees. They have separate usage fees and require non-toxic shot which can be purchased at the range or you may supply your own. They are open to the public on Thursday through Sunday, 10:00 am to approximately 5:00 pm.
Rifle rests, spotting scopes, chronographs, sandbags, and targets are available at the range. The friendly knowledgeable staff is always present to assist new and seasoned shooters with safe use of firearms and sight alignment.
A major component of the RCSP is hunter education and training. To this end, the RCSP has a special building with two classrooms where a wide variety of classes are offered for basic safety, shooting and hunting skills by the Alaska Department of Fish and Games Hunter Information and Training (HIT) Program.
A major goal of RCSP and the HIT program is to introduce Alaskan youth to the heritage of safe and fun shooting. To this end the RCSP hosts two Youth Shotgun Leagues, one in the fall and one in the spring. Girls and boys ages 10 to 15 are invited to come and experience the fun and friendly competition while developing skills shooting moving clay targets. Additionally kids 16 to 18 may shoot in a "Senior Youth League" to further hone their skills. Rabbit Creek Youth Shotgun League. RCSP also hosts a Youth Rimfire League, for participants ages 10 to 15 years-old. The League's purpose is to provide new or inexperienced shooters a safe and supervised program to develop consistency and accuracy in rifle marksmanship. The focus is on individual improvement and discipline. The League will follow the Winchester/NRA Marksmanship Qualification Program, specifically the Rimfire Rifle Qualification. Rabbit Creek Youth Rimfire League.
The HIT program also conducts a special "Sighting-In" day for hunters at the RCSP. This annual special event allows participating hunters to have their hunting firearms checked out for any operational problems and have their hunting loads checked by chronograph to determine actual velocity.
Our facility offers or hosts:
100 yard semi enclosed and heated center-fire range
50 yard semi enclosed handgun range
50 yard rim-fire range
Two special instructional ranges
Archery range with static and 3-D targets including simulated tree platform
Two media-equipped Classrooms with capacity for 24 students in each or 48 in one large room
Firearm and Bow Hunter Education classes
Hunter Information and Training Clinics (Muzzleloading, Bear Baiting, etc.)
Firearms Instruction for all skill levels
Instructor and Range Safety Officer certification
Youth Shooting Sports and Clinics
Targets and other shooting accessories for sale and rent (No firearm rentals, no handgun or rifle ammunition sales)
Friendly and knowledgeable staff, instructors, and volunteers
Warm, safe, friendly atmosphere for everyone!
For a list of the RCSP range rules, see General Range Rules (PDF 19 kB). The Range Rules are also posted in the Main Range House at RCSP.
For additional information, see the Contact Us and Facility Fees pages. For questions, call (907) 345-7831 or email dfg.dwc.rcsp@alaska.gov.