Prince William Sound Management Area

Fishing Information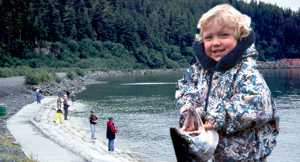 The Western Prince William Sound area includes the community of Whittier and the villages of Chenega and Tatitlek. The Alaska Marine Highway ferry system regularly serves Whittier, and will "whistle stop" at Chenega and Tatitlek.
The Sound is an incredibly rich resource for native populations all five species of Pacific salmon, as well as halibut, rockfish, lingcod, sharks, steelhead trout, rainbow trout, cutthroat trout, and Dolly Varden char.
Salmon are also raised in state and private nonprofit hatcheries in the Sound and are available for sport anglers. Pink and silver salmon are the most abundant salmon species, providing most of the sport fishing opportunities in Prince William Sound.
Check out our Sport Fishing Publications webpage for various publications.