Northern Cook Inlet Management Area

Overview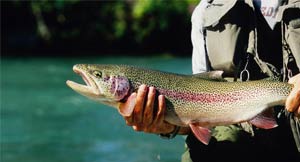 The Northern Cook Inlet Management Area (NCIMA) supports extensive and diverse recreational fisheries for five species of Pacific salmon. The two most sought-after salmon species are the chinook and coho salmon. The NCI area also supports excellent fishing opportunities for wild stocks of rainbow trout, Dolly Varden, Arctic grayling, and northern pike and limited opportunities for burbot, Arctic char and lake trout. Two species of fish are also available for personal use fisheries: sockeye salmon at Fish Creek and hooligan (smelt) in the Susitna River. On the West side of Cook Inlet anglers target halibut, razor clams and several species of hardshell clams. Minor fisheries for Tanner, and Dungeness crab occur in several bays on the west side of Cook Inlet. The NCIA also supports the most aggressive lake stocking program in the state where more than 90 of the area lakes are stocked with rainbow trout, arctic grayling, arctic char, landlocked coho and chinook salmon.
The Northern Cook Inlet sport fish management area (NCIMA) includes all freshwater drainages and adjacent marine waters of Upper Cook Inlet between the southern tip of Chisik Island and the Eklutna River, excluding the upper Susitna River drainage above the Oshetna River confluenc. The management area encompasses approximately 35,000 square miles and is dominated by the Susitna River drainage which originates in glaciers of the Alaska and Talkeetna mountain ranges and flows about 200 miles in a southerly direction before entering Cook Inlet near Anchorage. Most sport fisheries in the NCIMA are easily accessible by road or jet boat, with the exception of the remote West Cook Inlet Unit (WCI) waters accessible only by boat or aircraft.
In terms of political geography, the major portion of this management area is very similar to the boundaries of the Matanuska-Susitna Borough; additionally the West Cook Inlet Unit extends into the Kenai Peninsula Borough. About 60% of the state's population resides within or immediately adjacent to the management area. Major communities within the management area include Wasilla, Palmer, Talkeetna, Willow, and Houston. Smaller communities in the management area include Tyonek, Sutton, Chickaloon, and Skwentna. The Municipality of Anchorage, Alaska's largest community borders the management area. Although much of Alaska's population resides in or near the NCIMA, it is important to note that much of the management area is either sparsely populated or uninhabited. The State of Alaska is the principal land manager in the NCIMA. Other significant land managers include the Matanuska-Susitna (Mat-Su) Borough, Kenai Peninsula Borough, various native corporations and villages, and the federal government.