Anchorage Management Area

Fishing Information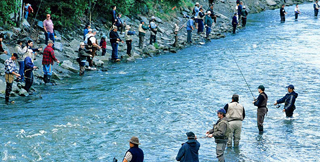 The Anchorage area includes all lakes and streams from Eklutna River (northern boundary) to Ingram Creek in Turnagain Arm (southern boundary). Anchorage is unique in the sport fishing world. Anglers can catch 20- to 30-pound king salmon and 8- to 10-pound silver salmon right in town. There's also excellent fishing for rainbow trout, Dolly Varden char, and Arctic grayling in area lakes and streams.
The majority of Anchorage-area sport fishing in both streams and lakes is the result of hatchery stockings. Anchorage area streams support natural runs of one or all of the five Pacific salmon species but most of these native runs are too small to support sport fisheries. Check your regulation book carefully since many area flowing waters are closed to salmon fishing.
Check out our Sport Fishing Publications webpage for various publications.