Alaska Department of Fish and Game
---
Secondary Site Navigation
Area Sport Fishing Reports

Anchorage
August 17, 2017
Week of August 17 to August 23
General Area Description: All waters draining into the east side of Knik arm south of, and including, the Eklutna River drainage, and all waters draining into the north and west sides of Turnagain Arm, and all waters draining into the south side of Turnagain Arm east of, and including, Ingram Creek.
Regulation Reminders and Emergency Orders
Before you go fishing ALWAYS review the 2017 Sport Fishing Regulations and have a current 2017 sport fishing license - available for purchase at the ADF&G Online Store.
Ship Creek is currently OPEN to salmon fishing (except king salmon) from the mouth to a cable 100 feet below the Chugach Power Plant Dam. The remainder of the creek up to 300 feet above the Elmendorf Power Plant Dam, near the William Jack Hernandez Sport Fish Hatchery, is CLOSED YEAR ROUND to ALL fishing.
Campbell Creek is open to fishing for coho salmon and fish species other than salmon from the Dimond Boulevard Bridge up to Shelikof Street and also from Lake Otis Parkway Bridge to ADF&G markers near Piper Street. The area between Shelikof Street and Lake Otis Parkway Bridge is always CLOSED to ALL fishing. Above Piper Street, there is no salmon fishing allowed and there is no retention of rainbow or steelhead trout allowed. Besides coho salmon in select areas, no other salmon species may be targeted or retained anywhere on Campbell Creek. Check the 2017 Southcentral Sport Fishing Regulations Summary booklet for specifics and a map.
Chester Creek: select areas of Chester Creek opened to fishing for fish species other than salmon on June 15. NO SALMON FISHING IS ALLOWED ON CHESTER CREEK.
Bird Creek opened to salmon fishing, EXCEPT king salmon, on July 14. Salmon limits (except king salmon) are three per day, three in possession, if 16 inches or greater. The bag limit for salmon less than 16 inches in length is ten per day, ten in possession.
Symphony Lake opened to fishing on July 1. Arctic Grayling limits are five per day, five in possession; only one fish may be greater than 12 inches in length.
Eagle River (entire drainage) remains closed to king salmon fishing.
Stream Fishing
Salmon
All waters in the Anchorage Management Area are currently CLOSED to king salmon fishing.
FISH HANDLING REMINDER: if you catch a fish and don't plan to keep it because you don't want it or it's illegally hooked, you MUST release that fish carefully. Try to keep it in the water as best as you can. We want all fish to live after being released and proper care when removing hooks and keeping a fish in the water is extremely important!
Ship Creek: Coho salmon fishing continues to be great! Anglers have success on both bait and hardware and many are getting daily limits in a very short time period. Lots of pinks are in the creek as well. Should continue to be another great weekend of fishing!
Bird Creek: Fishing has been good and should continue to be good over the weekend with the rain. Coho, chum, and pinks are all being caught in the creek. Make sure you know how to identify your salmon. Retaining king salmon on Bird Creek is NOT ALLOWED. Please obey regulations and private property signs.
Campbell Creek: Coho salmon fishing was great over the weekend but has slowed down a bit. Look for better fishing once we get more rain and water levels come up.
If you are successful and would like to report a catch please contact the Sport Fish Information Center at 267-2218.
Fishing Tip: Brush up on your fish identification before you head out fishing. Test your fish identification knowledge with the new Pacific Salmon ID Quiz.
Trout/Dolly Varden
Trout fishing should be good on Chester and Campbell Creeks. Try fishing egg patterns behind spawning salmon.
Be aware that habitat restoration work has been conducted on Campbell Creek. Please obey all signs and stay on designated trails in these areas to reduce damaging all the hard work. This habitat work is going to help improve fish habitat on the creek. Two great fishing platforms have been installed. One is below the Dimond Street Bridge and one is at Arctic Boulevard.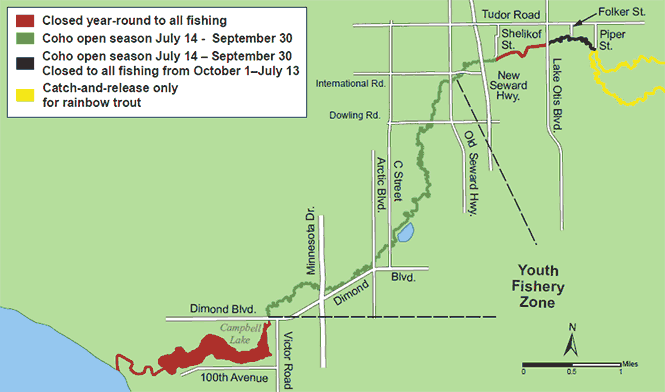 Lake Fishing
Anglers can visit the ADF&G Hatcheries and Stocking webpage for more information regarding when and where fish are stocked. Most lakes in the Anchorage area have been stocked.
Anchorage area lakes have been great fishing this summer. A mixture of warm and cool days have kept fish active. Bait, small spinners, and flies are all good methods for targeting stocked trout. Try some black leeches or roe on a small hook.
If you are looking to get away from the crowds try a hike into Rabbit Lake to catch some rainbow trout.
Sand Lake has LOTS of catchable size rainbows right and always the chance of a grayling! Try accessing the lake through one of the public access points with a kayak or canoe.
APU/University Lake and West Chester Lagoon are in the Chester Creek drainage which opened to fishing for rainbow trout on June 15. Make sure to leave the salmon alone.
Symphony Lake opened July 1. Excellent grayling fishing can be found in the lake. Recent reports indicate that dry flies are your ticket to catching these fish but be prepared to try lots of methods especially if it is windy. Small streamers are a better bet on those windy days. Try fishing the lake outlet or inlet for the larger sized fish.
Fishing Tip: To improve your success in local stocked lakes review the lake bathymetric (bottom depth profile) map online. This will help you determine what type of fish you are fishing for and where they might be. Often a little walk or getting away from the pack will provide rewards.
Northern Pike
There are very few opportunities for Northern Pike in Anchorage as they are not native to the region. ADF&G has taken steps to keep pike out of Anchorage lakes. Lower Fire Lake is the closest place to find Northern pike in the Anchorage Area. Try a mouse pattern for some fun action. If you catch a Northern Pike in the Anchorage area, please contact the ADF&G Sport Fish Division immediately at 267-2218.
Hooligan
Hooligan is closed in both salt and fresh waters.