Skagway Wildlife Viewing

Dyea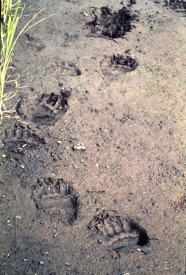 Dyea rivaled Skagway in both size and importance during the Klondike Gold Rush. While those days are long past, Dyea still hosts an abundance of wildlife each year. The Dyea Flats at the estuary where the Taiya River meets Taiya Inlet has a eulachon run in late April and early May that attracts large numbers of harbor seals, Steller sea lions and bald eagles. Eulachon are small (up to 10 inches), oily fish, and are the first major food source for many animals after the scarcity of winter. Harbor seals and bald eagles return to Dyea during the coho, pink and chum salmon runs between July and September. The salmon also attract bears to the river and estuary. Watch for bears and bear sign like scat, tracks and tree scratches. Great blue herons are seen throughout the year, and a variety of shorebirds and waterfowl come to the estuary each spring and summer.
Habitat
The Dyea Flats is prime habitat for a variety of migratory and non-migratory birds, and there is excellent birding at the flats throughout the spring, summer and fall.
Species
Black Bear
Brown Bear
Eagles
Eulachon
Great Blue Heron
Harbor Porpoise
Harbor Seal
Harlequin Duck
Marbled Murrelet
Steller's Sea Lion
Hints
Stop in pullouts along the road to Dyea for views of Long Bay, where relatively calm waters and abundant food sources attract harbor seals and harbor porpoises, as well as marbled murrelets, harlequin ducks and Barrow's goldeneyes.
Facilities
Fee
Hiking Trails
Interpretive Signs
Notes
The National Park Service maintains a campground and offers interpretive walks in the old Dyea town site in the summer. Commercial guided tours to Dyea are available as well. Not all tours are wheelchair accessible; ask when booking. Fee is for camping and tours only.
Plan to spend at least: 2 hours - full day +
Best Months
█ Best Month
Jan

uary

Feb

ruary

Mar

ch

Best Month

Apr

il

Best Month

May

Best Month

Jun

e

Best Month

Jul

y

Best Month

Aug

ust

Best Month

Sep

tember

Oct

ober

Nov

ember

Dec

ember
Directions
The well-maintained 12 mile gravel road to Dyea branches off from the Klondike Highway a few hundred yards north of town.
Contact
National Park Service, Klondike Gold Rush National Historic Park - (907) 983-2921 or http://www.nps.gov/klgo/index.htm Skagway Convention and Visitor's Bureau - (907) 983-2854 or http://www.skagway.com/
Additional Information