Skagway Wildlife Viewing

Downtown Skagway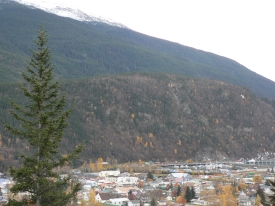 Look for wildlife at the fringes of historic Downtown Skagway. Chinook (king) and pink salmon spawn in Pullen Creek and Pond in July and August. Listen and look for American dippers along the creek year-round. The Broadway Dock sits at the mouth of Pullen Creek and is a good place to see salmon pooling before they venture up the creek to spawn. Look for harbor seals, river otters, mink, marbled murrelets and pigeon guillemots from the ferry dock or the small boat harbor. Walk the shoreline from the harbor back toward town for additional viewing chances. Keep an eye out for rufous hummingbirds, northern goshawks, Townsend's warblers, kingfishers and other species throughout the summer. Winter birds include brown creepers and golden-crowned kinglets.
Species
Accipiters
American Dipper
Chinook (King) Salmon
Harbor Seal
Kingfisher
Marbled Murrelet
Mink
Pigeon Guillemot
Pink (Humpy) Salmon
River Otter
Hints
Look for wildlife in the early morning and late evening hours, when there is less human activity.
Facilities
Interpretive Signs
Picnic Facilities
Restrooms
Wheelchair Accessible
Within Walking Distance
Notes
The wildlife viewing spots in downtown Skagway are all within easy walking distance from each other. There is a small parking lot at the small boat harbor.
Plan to spend at least: 1 - 2 hours
Best Months
█ Best Month
Jan

uary

Feb

ruary

Mar

ch

Apr

il

Best Month

May

Best Month

Jun

e

Best Month

Jul

y

Best Month

Aug

ust

Best Month

Sep

tember

Oct

ober

Nov

ember

Dec

ember
Directions
Follow Second Avenue east to reach Pullen creek and pond. The small boat harbor is found along Congress Way at the southeast corner of town.
Contact
Skagway Convention and Visitor's Bureau - (907) 983-2854 or http://www.skagway.com
Additional Information
Wings Over Alaska - statewide birding program http://www.birding.alaska.gov/