Skagway Wildlife Viewing

Chilkoot Trail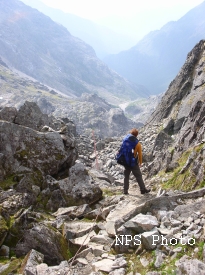 The historic Chilkoot Trail was a primary route for gold rush stampeders in 1898. The 33-mile trail now provides hikers the opportunity for a multi-day excursion that follows in gold prospectors' footsteps. The Chilkoot is also a popular day-hiking spot; day hikers pass along the Taiya River, which has a salmon run between July and September that attracts both black and brown bears. Look for beaver dams and lodges around mile two and three, with late evening hours the best time to see these busy rodents. Watch and listen for varied thrushes, Townsend's warblers, American redstarts, Wilson's warblers and hermit thrushes, among others. Those hiking longer distances can look for mountain goats, marmots, pika, grouse and ptarmigan as the trail ascends into the alpine. Fortunate hikers might spot moose on the Canadian side of the trail.
Habitat
The Chilkoot Trail passes along river, forest and alpine habitat, providing the chance to spot many different wildlife species.
Species
Beaver
Black Bear
Brown Bear
Eagles
Grouse
Marmot
Moose
Mountain Goat
Pikas
Ptarmigan
Hints
Early summer is a good time for beaver viewing, when juveniles are evicted from their parents' lodge and search for a new home.
Facilities
Notes
The National Park Service and Parks Canada require every person planning to overnight on the Chilkoot Trail to obtain a permit. Visit www.nps.gov/klgo/chilkoot.htm or call Parks Canada at 1-800-661-0486 for details on fees and permits. The Chilkoot enters Canada near its halfway point, and ends at Lake Bennett in the Yukon Territory. Check with the Skagway Visitor's Bureau or National Park Service for up-to-date border crossing information.
Plan to spend at least: 2 hours - full day +
Best Months
█ Best Month
Jan

uary

Feb

ruary

Mar

ch

Apr

il

May

Best Month

Jun

e

Best Month

Jul

y

Best Month

Aug

ust

Best Month

Sep

tember

Oct

ober

Nov

ember

Dec

ember
Directions
The trailhead for the Chilkoot Trail is at mile 8 of the Dyea road.
Contact
National Park Service, Klondike Gold Rush National Historic Park - (907) 983-2921 or http://www.nps.gov/klgo/chilkoot.htm.
Additional Information