Skagway Wildlife Viewing

Dewey Lakes Trail System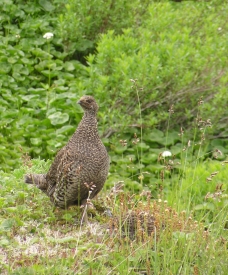 The Dewey Lakes Trail System is a network of trails found on the doorstep of town. The Lower Dewey Lake Trail loops 2.5 miles through pine forest around Lower Dewey Lake. Most of the other trails branch off of this trail. The Upper Lake Trail starts at the north end of the loop and climbs 3,000 feet in 3 miles (one way) to Upper Dewey Lake. As the trail ascends, forest gives way to alpine — good habitat for grouse and ptarmigan. Look for chicks accompanying their mothers in May and June. Marmots and pika scurry along the ground in the alpine throughout the summer. Use binoculars to search for mountain goats on the surrounding ridgelines. The Sturgill's Landing Trail extends 3.5 miles one way from the south end of the Lower Lake loop through pine and spruce-hemlock forest to a lookout over Taiya Inlet, where you can scan the water for marine mammals.
Habitat
The Dewey Lakes Trail System passes through pine forest habitat (rare for Southeast Alaska), which is sparser than the more common spruce-hemlock forest.
Species
Grouse
Marmot
Mountain Goat
Pikas
Ptarmigan
Hints
Hike one of the longer and less-traveled trails that extend away from the lower lake to improve your chances of spotting wildlife.
Facilities
Hiking Trails
Within Walking Distance
Notes
Stop by the Visitor's Bureau or the National Park Service Visitor's Center for additional hiking information, including trail maps and conditions, before heading to Dewey Lakes.
Plan to spend at least: 2 hours - full day
Best Months
█ Best Month
Jan

uary

Feb

ruary

Mar

ch

Apr

il

Best Month

May

Best Month

Jun

e

Best Month

Jul

y

Best Month

Aug

ust

Best Month

Sep

tember

Oct

ober

Nov

ember

Dec

ember
Directions
To reach the Dewey Lakes trail system, cross Pullen Creek at the end of Second Avenue and then head north for about a quarter of a mile, keeping your eyes out for the trailhead marker on your right.
Contact
Skagway Convention and Visitor's Bureau - (907) 983-2854 or http://www.skagway.com City of Skagway, Comprehensive Trail Plan - http://www.skagway.org/index.asp?Type=B_BASIC&SEC={D5038379-F8CD-42BD-AABF-F03425A56803}
Additional Information