Northern Cook Inlet Management Area

Fishing Information
Please select an option from the dropdown menu
Mat-Su Stocked Lakes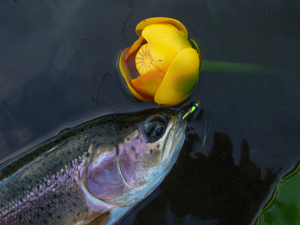 The primary objective of this program is to provide additional fishing opportunities for both the consumptive and non-consumptive users in a cost-effective manner on a sustainable basis by stocking lakes with game fish that are indigenous to Alaska. An additional objective of the program is to divert pressure from the areas wild fish populations and ensure that stocking does not negatively impact wild stocks or other fisheries. All stocking is conducted in accordance with guidelines set forth in the Statewide Stocking Plan for Recreational Fisheries.
Currently 89 lakes in the NCIMA are stocked on an annual, biennial, or triennial basis. These stocked lakes range in size from 2 to 362 surface acres. The stocking program began in 1952 when two lakes received 22,000 rainbow trout fry. Although eight species of salmonids have been planted since 1952, rainbow trout, coho salmon, Chinook salmon, and Arctic grayling have become the primary species used in the stocking program and most-recently, Lake trout. Steelhead/rainbow trout are from strains of rainbow trout from the Swanson River. Arctic grayling eggs come from the Chena River. Arctic char originate from eggs taken at Aleknagik Lake, the salmon brood are from the William Jack Hernandez Sport Fish Hatchery (Ship Creek), and the primary brood for Lake trout are from Sevenmile Lake. Due to budget cuts, the Arctic grayling program has been suspended as of 2020. As funding returns this program will be restored.
As sport fishing pressure continues to increase in the Matanuska-Susitna Valley, stocked lakes are becoming increasingly important in satisfying recreational demands. Lakes with legal public access near population centers with good parking, camping, and boat launch facilities are emphasized for the stocking program. They have the greatest potential for increasing angler effort. These lakes are often stocked with catchable sized fish. Remote or rural lakes with public access are also part of this program. They are stocked with low density fingerling or catchable fish and provide quieter fishing opportunities.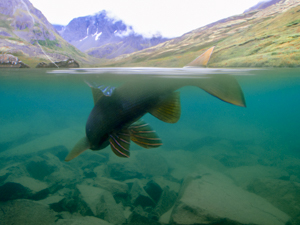 There are three lakes in the Mat-Su with special fishing regulations. Since 1995, Wishbone, Long Lake (Matanuska Lakes Complex) and X lakes have been managed for catch-and-release fishing only. Winter fishing has been closed, and gear is restricted to single-hook, unbaited, artificial lures with no harvest.
To reduce the potential of negative impacts on wild fish populations, Sport Fish Division endorses the use of triploid fish whenever practical. Triploids are sterile and incapable of establishing self-reproducing populations. Triploids have been produced for all species, except Lake trout.
An ongoing program to evaluate growth and survival of fish in stocked lakes is conducted as staff are available and budgets support this research. Sport fishing harvest, catch, and effort is estimated through the Statewide Harvest Survey.
Chinook & Coho Escapement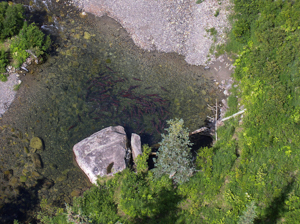 Helicopter surveys to count Chinook salmon escapement in up to 25 NCI streams have been conducted since 1979 and this information is used to manage Chinook salmon of the Susitna River drainage. Surveys are flown during the last two weeks of July and require an observer to sight fish from a helicopter flying at tree top level above spawning Chinook salmon. Past studies have shown that aerial surveys count about 40-60% of actual number of spawners.
While not an actual count like that which can be achieved by fish weir, these surveys are an index of the spawning escapement used to assess run strength relative to other years, detect trends in escapement, and set individual escapement goals on some streams. An effort was made to combine aerial survey data with data from other projects conducted in past years, such as creel surveys, weir counts, and mark-recapture abundance estimates, to reconstruct total run size of Chinook salmon in four geographic areas of the Susitna River drainage dating back to the late 1970s: Deshka River, Eastside Susitna, Talkeetna River, and the Yentna River. Modeling of the reconstructed runs has been used to estimate the historical return per spawner, which made possible the establishment of escapement goals for these four larger area stocks. As Chinook surveys continue to be flown each year, the model is updated with these counts and other data collected and used to evaluate performance of each stock relative to the escapement goal. Therefore, management of Chinook salmon on the Susitna River, with exception of the Deshka River, is reliant on a post season run assessment that in turn is used to craft future management strategies. A weir program on the Deshka River allows for inseason management of the sport fishery, which is yet a finer scale of management that involves issuance of emergency orders (See Deshka River Weir).
Foot surveys to index spawning coho salmon are also conducted annually on up to 11 NCI area streams. Foot surveys are used to detect trends in escapement of the various NCI stocks and assist fisheries managers with future management strategies and in developing and fine tuning of escapement goals. Currently one escapement goal is based on a foot survey of McRoberts Creek, which is part of the Jim Creek drainage.
Deshka River Salmon Weir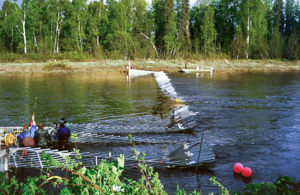 A weir has been in operation on the Deshka River since 1995 to count annual runs of Chinook and coho salmon. The weir is installed at river mile 7 in late May, ahead of the Chinook run, and is pulled by Mid-September after the finish of the coho salmon season. A secondary objective of the project is to estimate the age, sex, and size composition of the spawning escapements. This data has been used to generate a return per spawner profile for the Chinook stock and is the basis of the current Chinook salmon escapement goal and a major part of the annual Chinook forecast. An escapement goal is also in place for coho salmon based solely on weir counts. During the season, daily counts are used to assess run strength and produce projections of escapement; emergency orders are sometimes issued to boost sport harvest on years of high run strength or to restrict harvest on years of low abundance if escapement goals are projected to be missed.
Little Susitna River Salmon Weir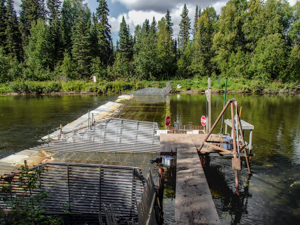 The Little Susitna weir operates each season from about mid-May to mid-September at approximately river mile 32.5, approximately 4 miles upstream of the Little Susitna public Use Facility located on the lower river. Objectives of the project are to count annual runs of Chinook and coho salmon and collect age, sex, and length data. Count data has been used in the establishment of escapement goals for both Chinook and coho salmon. During the season, daily counts are used to assess run strength and produce projections of escapement; emergency orders are sometimes issued to boost sport harvest on years of high run strength or to restrict harvest on years of low abundance if escapement goals are projected to be missed.
Egg takes in Support of Eklutna Tailrace Chinook and Coho Fisheries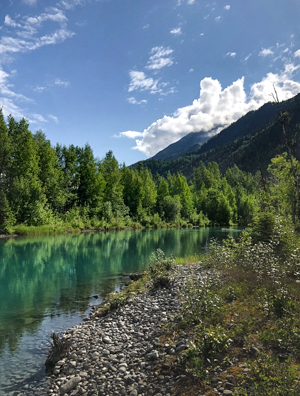 Chinook and coho salmon egg takes are conducted annually from brood returning to Ship Creek. Eggs are incubated at the William Jack Hernandez Sport Fish Hatchery and fry raised to smolt stage over the course of a winter prior to release at the Eklutna Tailrace. The objective of the Chinook program is to release approximately 425,000 smolt annually to produce a return of 4,000 adults. Note that beginning in 2014, the number of Chinook smolt released was tripled from original levels in an effort to offset poor smolt to adult survivals. Approximately 125,000 coho salmon are released annually to produce a return of 5,000 adults. The Eklutna Tailrace is open to harvesting these salmon returns year-round, although Chinook are generally targeted late May through mid-July and coho targeted during the month of August and into early September. These are terminal fisheries, meaning hatchery fish return to the Tailrace for the sole purpose of being harvested; spawning does not take place in the Tailrace. These fisheries help to increase angler opportunity while reducing pressure on wild stocks. The stocking program provides alternative opportunities for anglers that might otherwise direct their efforts towards native fish that are vulnerable to over-fishing.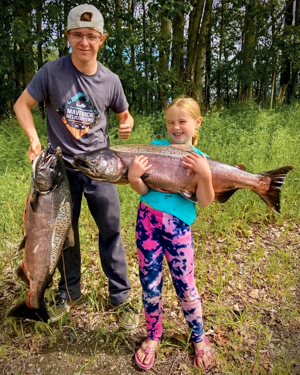 The Eklutna Tailrace also supports two youth-only fisheries. Youth-only Fisheries are open to fishing for anglers who are 15 years of age or younger. They take place the third Saturday in June for Chinook salmon and the third Saturday in August for coho salmon. Youth are allowed to fish in designated areas from 6am-6pm on these days. Youth-Only fisheries were established by the Alaska State Legislature and implemented by the Alaska Board of Fisheries to provide a special opportunity for young people to go fishing with little to no competition from adults. The Eklutna Tailrace was the recipient of a national award and recognition in 2018, as being ranked, "The Nation's top Mom-Approved fishing location."
Fish Creek Weir
Efforts to enumerate sockeye salmon on Fish Creek of the Big Lake drainage date back to 1938. Today a weir is in operation to count the annual run of sockeye salmon and to manage a personal use dip net fishery. The weir is located about a mile upstream of Lewis Road off Point Mackenzie Road. Count data and biological data (age/sex/length) collected at the weir have been used in the establishment and refinement of an escapement goal through the years. This data is also used in forecasting of future sockeye returns to this system. The Upper Cook Inlet Personal Use Salmon Fishery Management Plan dictates that a personal use dip net fishery may be opened by emergency order sometime between July 15 and July 31 based upon projection of at least 35,000 sockeye salmon in the spawning escapement.
When opened by EO, dipnetting is allowed between signs posted near the mouth upstream to signs posted about a quarter mile upstream of the Knik-Goose Bay Road Bridge. Sockeye harvests of around 20,000 are common in this fishery, with dipping occurring from both shore and boat. Users need be aware that most of the property adjacent to Fish Creek downstream of the highway bridge is privately owned. Please respect private property signage. Permission to use private uplands for any reason must be obtained from the landowner. When accessing the mouth of Fish Creek, legal access is restricted to below the mean high tide line. All-terrain vehicles (four-wheelers) are not allowed in creeks or adjacent creekside property without a habitat permit. Dipnetters are advised to use extreme caution when fishing lower Fish Creek due to high tides and muddy conditions.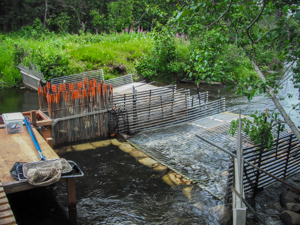 The weir program is extended to count coho salmon on years when funding is available. Past coho counts have been used in the establishment of an escapement goal. The weir is a tool for inseason management of the sport fishery. Note that sport fishing is closed during dates in which the personal use dipnet fishery may be open (July 15 through July 31). The sport fishery, which occurs on weekends only, peaks about mid-August, although Fish Creek is known for later arriving coho into September. A youth-only fishery (age 15 years and younger) occurs the first Saturday and Sunday of August.
Alexander Creek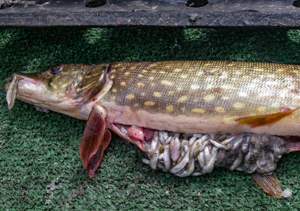 The Alexander Creek invasive northern pike suppression project has been an annual project since 2011, and to date, has removed over 25,000 pike. Alexander Creek used to support the largest Chinook salmon fishery in Southcentral but the prime pike habitat in Alexander Creek has allowed the pike to thrive in the system and prey on vulnerable juvenile salmonids. The goal of this project is to remove as many pike as possible each spring by setting gill nets in approximately 70 side sloughs/oxbows throughout the creek corridor.
Mat-Su Invasive Pike Survey and Monitoring
This project began in 2020 and is focused on sampling known pike waters throughout the valley as well as places with suspected or reported pike populations. A total of 37 different waterbodies have been sampled since then, removing over 1,700 invasive northern pike. This project will continue annually from May through September.
An interactive mapper shows where there are confirmed populations of northern pike in Southcentral
Eradication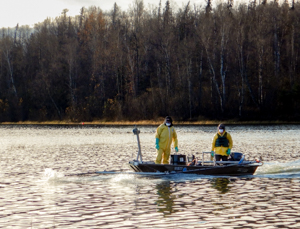 Where possible and feasible, ADF&G has pursued eradication of invasive northern pike populations. To date, most of these efforts have been focused on the Kenai Peninsula, which as of 2021 is believed to be pike free. There have also been successful invasive pike eradications in Anchorage. The first pike eradication project in the Mat-Su occurred in 2020 at Kings and Anderson Lakes. These links provide a list of current eradication projects and completed eradication projects.
Big ol' title
Subby little header
very cool content
Facebook
Twitter
Google+
Reddit