Current Rotenone Projects in Alaska
Fire Creek Drainage Northern Pike Eradication
The Fire Creek Drainage, which includes Lower Fire Lake, is one of the last known invasive pike populations in the Anchorage area. It is the closest known population to other vulnerable waterbodies in the upper Knik Arm and removing this population will help protect those areas from future impacts from northern pike. This treatment is scheduled to occur October 2022. A native fish restoration effort will occur in Fire Creek below Fire Lake, and Lower Fire Lake will be stocked in 2023 with a hatchery product yet to be determined.
Questions regarding this project can be directed to Parker Bradley via email or 907-746-6328.
Miller Creek Drainage Northern Pike Eradication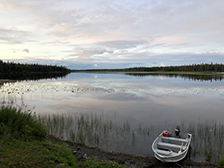 Invasive northern pike were confirmed in the Miller Creek watershed (MCW) in 2019. The MCW is located near the northern tip of the Kenai Peninsula and most of the drainage lies within Kenai National Wildlife Refuge boundaries. Northern pike have been found in Vogel Lake, North Vogel Lake, and the upper reaches of Miller Creek. This introduction of northern pike appears to be recent and native fish, like rainbow trout and rearing coho salmon, are still present. Beaver dams throughout the drainage may slow the spread of pike to adjacent waters, but given enough time, the distribution of northern pike will expand.
The MCW northern pike population represents the last known population of northern pike on the Kenai Peninsula. Multiple organizations are working to protect native fish populations in the MCW which includes the USFWS, ADF&G and the Kenai Watershed Forum. The USFWS, has drafted an environmental assessment (EA) that considers various alternatives to address the northern pike problem in the MCW. The environmental assessment is available for review at: Draft Environmental Assessment - Northern Pike Management in the Miller Creek Watershed on Kenai NWR (fws.gov)
Written comments will be accepted on the draft EA from March 16, 2021 – April 17, 2021.
Please send written comments to Ben Wishnek, US Fish and Wildlife Service:
U.S. Postal Mail:
Ben Wishnek
US Fish and Wildlife Service
Kenai National Wildlife Refuge
P.O. Box 2139
Soldotna, Alaska 99669
E-Mail:
More information on pike in the MCW is posted here: Unraveling the Mystery of Pike in Alaska's Vogel Lake by U.S.Fish&Wildlife Alaska, March 2021.