Northern Cook Inlet Management Area

Fishing Information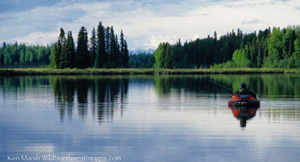 Fresh water sport fishing opportunities are diverse in the Northern Cook Inlet Management Area. This large, sprawling region is dominated by the Susitna River drainage, but also includes the streams of West Cook Inlet and the Knik, Matanuska and Little Susitna rivers. The tributaries of the Susitna and Little Susitna rivers support all five of Alaska's salmon species and opportunities to fish for rainbow trout, Arctic grayling and Dolly Varden. The many lakes of the northern Cook Inlet region provide additional year-round fishing opportunities for landlocked Chinook and silver salmon, rainbow trout, Arctic char, and Arctic grayling. Northern pike, illegally introduced decades ago, are also widespread in the Northern Cook Inlet Management Area.
The Susitna River drainage is made up of several major glacial tributaries. These tributaries each have dozens of clear water streams flowing into them. The streams that empty into the east side of the Susitna River are generally accessible by car from the Parks Highway (Alaska Highway 3).The streams that flow into the west side of the Susitna River are more remote, requiring a boat or small plane access.
The Parks Highway, which begins 35 miles north of Anchorage, connects the Matanuska and Susitna valleys to Interior Alaska. Some of the streams accessible from the Parks Highway include Willow Creek, Sheep Creek, Kashwitna River, and Montana Creek. Many anglers use riverboats to traverse the Susitna River and reach tributaries that are not accessible from the Parks Highway. Some of the more popular remote Susitna River fisheries include Lake Creek, Clear Creek and the Deshka River. Small planes also provide access to remote fishing spots on the west side of the Susitna River and the west side of Cook Inlet.
The Little Susitna River is known for its salmon fishing. Most anglers access this stream from the Little Susitna River Public Use Facility west of Wasilla, but some float the section upstream of the Public Use Facility to the Parks Highway.
Check out our Sport Fishing Publications webpage for various publications.