Alaska Hare Research
Alaska hare (Lepus othus), also known as the tundra hare, have long been a widely used recreational and subsistence food source for many residents of rural, western Alaska. However, vital rates, geographic distribution, and current population trends remain poorly understood. Current abundance of this species is believed to be well below average in most areas of its current range throughout western and southwestern Alaska. The Alaska Department of Fish & Game is launching a study to document general movement of a small sample of individuals using GPS necklace collars. Individuals will be captured using live traps and bow nets. Secondly, this study will evaluate a long-term population monitoring technique by genotyping individuals through pellet collections at discrete study areas throughout the species range in western Alaska. Due to the reclusive nature of this species, pellet related population monitoring may be the most efficient and cost-effective method for monitoring long-term population trends.
Video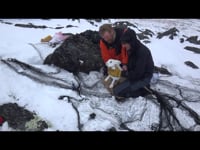 ADF&G research biologists attach a GPS/radio necklace collar to an Alaska hare in northwest Alaska.
Gallery