Kenai Brown Bear Committee

Russian River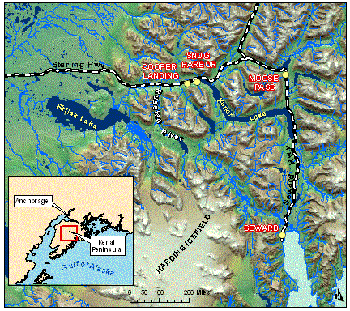 Alaska's Kenai Peninsula is one of the most popular recreational destinations in the state visited each year by national and international visitors, in addition to local Alaskans. Many visitors coming to the Kenai Peninsula are drawn to the area to experience the magnificent clear-running waters of the world class Russian River fishery. The Russian River lies within driving distance of two main population centers, 110 road miles south of Anchorage and 40 miles east of Soldotna, in an outstanding location surrounded by the Chugach National Forest and the Kenai National Wildlife Refuge in south-central Alaska.
Archaeological evidence and oral history show that Alaska Natives and early settlers harvested the abundant sockeye salmon runs and were drawn to the area for over 9000 years. Today, the Russian River area is visited by over 150,000 people each summer.
The legacy of the Russian River carries on as it continues to sustain indigenous cultures, and the Kenai's modern economy, quality recreational experiences, and a diversity of fish and wildlife species.
Angler Education and Bear Awareness
The Russian River is a clear, shallow stream that draws thousands of visitors each season who are in search of the prized sockeye salmon or rainbow trout. Similar to the rest of the Kenai Peninsula, brown and black bears inhabit this area, searching for food for themselves and/or their young. Unfortunately, the food sources they often find are coolers full of lunches, stringers of fish, and other sources of human generated food.
These food sources are being left unattended on the banks while anglers are catching their limits and begin the process of bears learning to associate people with food.
Currently at the Russian River, the most abundant and available human generated food source for bears during June and July is filleted fish carcasses. They collect at river bends, in slow moving eddies, and are being caught on monofilament line that is in the river. Gulls also drag carcasses out onto the banks so they can feed on them. This concentrated food source is irresistible to some bears and can lead to human-bear conflicts.
To minimize the attainment of fish carcasses from bears during the 2009 field season, anglers are being asked to help by:
Not filleting fish on the Russian River; instead take fish out whole (gutting entrails and gilling are ok).
Processing and disposing of fish carcasses properly:

Take home and follow appropriate local solid waste disposal standards (freeze if possible and dispose of in a bear resistant container or closed building until garbage pick up day)
Use a professional processing facility in your local area

If anglers prefer filleting harvested fish they are encouraged to take the fish to the Kenai-Russian River's confluence, chop the carcasses into NUMEROUS small pieces, and throw the carcass pieces into fast moving currents.
Do not clean and dispose of fish carcasses at:

Nearby lakes and small streams
Roadside pull-outs
Campgrounds and other developed recreation sites
Toilet facilities, drinking fountains, or in bear resistant food storage lockers
Public participation is needed to minimize fish carcass presence in the area and determine what of various options employed to reduce carcass presence is most effective. The agencies are committed to the development of an effective management strategy that will maintain a safe and accessible fishery.
What To Do With Food, Beverages, and Odiferous Possessions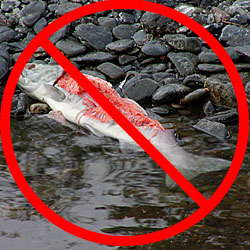 To prevent bears from thinking of your coolers, stringers of fish, and backpacks as an easy food source, keep them in sight and closely attended to at all times.
To keep bears wild and anglers safe, not to mention to keep yourself from a run in with federal enforcement officers, you are encouraged to do your part and keep all possessions closely attended or leave them in your car. It is important to stay alert and never allow bears to attain any food items from you.
Other measures being implemented this season include:
Fillet tables will not be provided on the Russian River. However, a limited amount of tables will be available on the Kenai mainstem for visitors needing to process fish for immediate eating and storage.
The Chugach National Forest will also be expanding their education staffing and law enforcement presence on the angler trails to ensure compliance with an existing regulation that prohibits "possessing or leaving unattended any personal property that may contain attractants; unless it is acceptably stored" while fishing on the river (36 CFR 261.58 (cc)). Acceptable storage includes retaining possessions within 3 feet, locked within a closed area of a motor vehicle, or contained in a certified bear-resistant container.
The Chugach National Forest will also be ensuring compliance with the existing regulation that prohibits "possessing, leaving unattended, or cleaning any animal carcass in the Russian River Campground unless it is being eaten or being prepared for eating, or being transported to acceptable storage" (36 CFR 261.58 (s)).
Fish On-Tune In
When visiting the Russian River, tune your radio to AM 1600 to hear important angler information including current weir counts, changes in bag limits, and river updates.
Stream Watch and Volunteer Program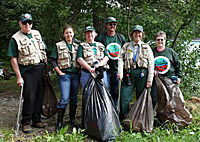 Stream Watch, which started in 1994, is an educational program that has received prestigious national awards. The volunteers help to protect the riparian areas of two world-class sockeye salmon fisheries - the Kenai and Russian Rivers. In addition, the Stream Watch Program was created to help educate anglers about reducing their impacts as they fish along these highly used rivers. Dedicated volunteers currently educate anglers and protect 24,000 feet of river bank each season. Since 2000, the Stream Watch Program has grown from 16 to 52 volunteers. During the past season, the volunteers worked over 600 hours maintaining a clean river and riparian area in addition to maintaining fencing around sensitive areas to protect, both vegetation and cultural features. Today, the needs at the Russian River are a bit different than they were when the program started in 1994. It has become clear that there is a need for broader educational messages including riparian habitat protection; bear awareness, ethical angling, and Forest Service and US Fish and Wildlife Service regulations. Spring orientation for volunteers is usually in the beginning of June prior to the fishery opening. Please call for more information and get involved.
The Stream Watch Program would not be possible without our volunteers and the generous support and contributions from our partners. Partners include: Kenai River Sportfishing Association, Alaska Recreation Management, State of Alaska Parks and Recreation, and the US Fish and Wildlife Service.
Partnership Opportunities
Russian River Stewardship Partners are individuals and groups who want to preserve the cultural heritage, ensure healthy habitat and streambanks, enhance recreational opportunities for diverse stakeholders, and to maintain healthy populations of fish and wildlife. With thousands of people visiting each year and as one of Alaska's premiere destinations, partnership opportunities are endless. The Upper Kenai/Russian River area is an excellent place to showcase collaborative efforts such as habitat restoration, interpretative education, and fish and wildlife conservation.
For more information or to get involved with volunteer and partnership efforts, Contact the USDA Forest Service at (907) 288-7739